In present-day Nigeria, starting a business with ₦500,000 thousand might seem challenging, but with the right business idea and strategy, it is very much achievable. Having a business is a great way to achieve financial independence and create a better future for yourself and your family. However, it can be hard to know where to start if you have limited capital. With N500k in your pocket, determination, passion, and dedication, you will be on your way to becoming your own boss.
This blog post aims to provide aspiring entrepreneurs with 15 profitable business ideas that they can start with a budget of ₦500,000 in Nigeria in 2023. These ideas cover a range of industries, from technology to services, and offer opportunities for growth and success.
15 Lucrative Businesses to Start with N500k in Nigeria
Here are the top profitable businesses to start with N500k in Nigeria to increase your income in 2023.
POS Agent Business
This is now a very popular business in Nigeria. And this is because almost everybody prefers doing simple transactions such as withdrawals and deposits by visiting a POS agent and paying a small fee rather than going to the ATM or bank. If you already have a shop where you sell items, great. But even if you don't have a space somewhere, you can still become a POS agent with 500,000 Naira. Here's what you need to do to start this business:
Register with a mobile money agent company
Find a good space. Can be a shop, a small kiosk or under an umbrella with a table
Get a POS device
Collect cash from the bank to pay customers
POS services are charged N100 for every transaction below N5,000 and N150–200 for transactions between N6,000 to N10,000. For every ten thousand, the charges increase by N100. Here are some of the reliable and trusted POS agents in Nigeria: Moniepoint POS, Opay POS, Baxi POS, and Palmpay POS.
Logistics and Courier Business
This is one of the fastest-growing businesses in Nigeria due to its recent high demand. With the rise of social media and online vendors, people have no choice but to buy stuff online and have it delivered to their doorstep. With 500k, you can get a fairly used Tokunbo bike and hire someone who can ride the bike and drop orders if you can't do it yourself. It might seem tricky at first, but make sure you get a trustworthy rider if you won't do it yourself so you don't end up losing your money.
Food or Snacks Business
If you love cooking and are sure you can make good meals, then you should consider this business. There are different food business options you can try, like catering services, bakeries, food trucks, and even an online food business. If getting a space or truck would be hard, then an online food business would be your best bet. You can make the meals in your house and have them delivered to people's homes or offices.
Phone Accessories Business
This is a simple and convenient business you can explore if you don't want something too stressful. Phone accessories such as batteries, chargers, cases, earpieces, and so on sell fast when you have the original product people are looking for and are affordable as well.
With 500K, you can get on Alibaba or Aliexpress and shop for nice products that are in style. If you prefer to shop for goods physically, you can get phone accessories at the cheapest prices are Alaba market and Computer Village if you live in Lagos. You can choose to open a physical store or sell online. If you are opting for a physical store, get a shop somewhere busy, and if you are selling online, take good product images and run ads to attract customers.
Barbing Salon Business
This is a great business opportunity, but you need to be sure you know how to cut customers' hair very well. And even if you are not skilled enough, you can hire a barber who has the experience. With your 500k, you will need to purchase the necessary equipment for your barbershop, such as hair clippers, scissors, combs, and mirrors. You may also want to consider purchasing a massage chair or other amenities to attract customers.
The location of your barbershop is important, as you want to be in a place where there is a lot of foot traffic. You should also consider the cost of rent and the availability of power and water at the location. Once you have set up your barbershop, you need to market it to potential customers. You can do this by advertising online, telling friends, and sharing flyers.
Printing Business
This is an old business that is still relevant in 2023. From event banners to clothes, books, and magazines, the amount of print work done daily is huge. This is a great business that you can start with N500k and make a daily income easily.
To get started, you will need to purchase printing machines that are suitable for the types of printing services you want to offer. The cost of printing machines will vary depending on the type and quality of the machines. You will also need a space to set up your printing business and purchase print materials such as paper, ink, and other consumables. Don't forget to get a shop where there is a reliable source of power to run your printing machines.
Car Wash Business
This is a great business to start. There is a lot of demand for car washing services, and the cost of starting a car wash business is relatively low. The first thing you need to do is find a space that has access to a good water supply. You will then invest in the necessary equipment, such as a pressure washer, vacuum cleaner, and hoses. If you are not able to run the car wash business yourself, you will need to hire staff. When hiring staff, you should look for people who are reliable and who have experience in car washing.
Beauty Salon Business
This is a top business to start with 500k in Nigeria. Every day, women spend money on themselves to look good and feel good. Whether you are making hair, fixing nails, or doing makeup, a beauty salon business is a very profitable business to start in Nigeria with 500k. And if you have the skills, it makes it even better. To get started, all you need is an aesthetically pleasing shop in a good location, and equipment for your beauty salon, such as hair dryers, curling irons, and other beauty tools. You can also utilize social media to post images of your salon and the services you offer, to attract customers.
Sales of Building Materials
The construction industry is thriving in Nigeria. There are new buildings being built all the time, and the sale of building materials is another profitable business to start with 500K in Nigeria. You can sell materials such as cement, ceiling materials, roofing materials, etc. To start this business, you'll need to get a shop, then find and negotiate with suppliers of various building materials, fill your shop with the products, and start selling. Make sure you target your shop to be in new and developing areas (sites), where building projects are always going on.
Clothing Materials Business
When it comes to the fashion business, we all know that it is highly profitable. With N500,000, you can start selling clothing materials like zips, lining, buttons, net, chiffon, and the like. To start this business, you'll need a shop located in a market or where tailors are mostly located. Make sure you buy your product from the market when you can get it at a wholesale price, so you can make a good profit.
Dropshipping Business
This is a simple business, where you can make money by promoting your drop shipping website for more business leads. It is an e-commerce business, but unlike other e-commerce businesses, you don't have inventory. So your job is basically like that of a middleman who brings business leads to an e-commerce store, and in return, you get paid a commission. E-commerce stores like Amazon, AliBaba, and Esty allow drop shipping on their platforms, so you can convince people to buy products on your website with a direct link to their products. To get started, create an e-commerce website where you can showcase your products and facilitate sales transactions.
Start a YouTube Channel
Starting a YouTube channel is absolutely free, but you can use your 5OOK to invest in content creation gadgets to help you grow your channel. If you want to start a YouTube channel, start by:
Choosing a Niche
Optimizing your channel
Creating original and Quality Content
Promoting your Content
Take steps to make sure your account gets monetized
Building a successful YouTube channel requires patience, persistence, and creativity.
Blogging
This is an online business that involves creating useful content for readers. With N500k, you can start a blogging website and make money through monetization. To start blogging, consider taking these steps;
Find a niche
Create valuable content
Promote your blog
Monetize your blog
Blogging is a long-term commitment. You have to be persistent and remember success does not come overnight.
Sell Cosmetics Products
Opening a cosmetics store where you'll sell skin care products such as creams, body oils, and makeup products is a very lucrative business to start with N500K in Nigeria. You can choose to have an online or physical store, or you can opt for both. For this business, you need little knowledge about cosmetic products. You just have to do research about trending products and what customers are requesting.
Related post: 15 Business Ideas For Ladies in Nigeria
Block Moulding Business
As long as people keep building hoses, this business will always be profitable. The block molding business is one of the best businesses to start with 500k in Nigeria. You don't need much to start this business. The main requirements are:
Understand how the business works
Rent a space with a constant water supply
Get moulding machines ( Pallets, Block moulds,listers)
With these business ideas, you're equipped to embark on an exciting entrepreneurial journey. The key now is to move from contemplation to action. Select the business idea that resonates with you the most and start delving deeper into it. Remember, simply thinking about it won't bring your vision to life; taking action is the crucial next step.
Whether you're drawn to e-commerce, service-oriented ventures, or retail opportunities, your success hinges on your dedication, determination, and willingness to learn. Educate yourself about your chosen field, conduct thorough research, create a solid plan, and then execute it with passion and perseverance.
The path to entrepreneurship can be both rewarding and challenging, but the satisfaction of turning your idea into a thriving business is unparalleled. Don't wait for the "perfect" moment; take the first step today.
Ready to start? Run your business with Vencru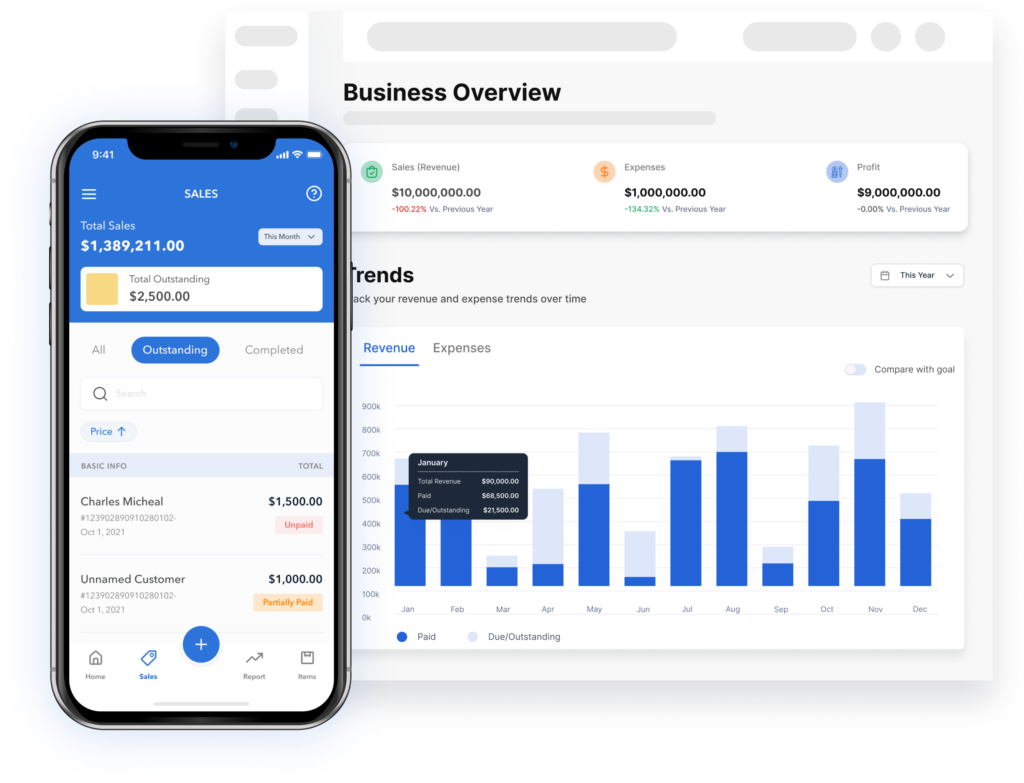 As we've explored the diverse business opportunities that you can explore in 2023, one thing is clear: success in any venture demands efficient management and streamlined operations. Here's how Vencru can help.
Vencru is a simple inventory and accounting software for all businesses. Imagine having all your business operations streamlined in one platform. This saves you time, reduces errors, and enhances your decision-making. Whether you're just starting out with one of the business ideas we've discussed or you're a seasoned business owner looking to scale, Vencru can be your ally on the journey to financial freedom. With Vencru, you can:
Invoicing: Create professional invoices effortlessly on Vencru and get paid faster. Stay on top of your finances and maintain a healthy cash flow.
Expense Tracking: Keep track of your business expenses with ease. This helps you make informed financial decisions and optimize your spending.
Inventory Management: Manage your stock efficiently, minimize waste, and never miss a sale due to stock outs.
Customer Relationship Management (CRM): Build strong customer relationships by storing important customer details and interactions in one place. Provide personalized service and boost customer loyalty.
Reporting: Gain valuable insights into your business's financial health through easy-to-understand reports and analytics.
Mobile Accessibility: Access your business data and manage your operations on the go with the Vencru mobile app.
Sign Up For A Free Trial Today