Best cloud accounting software for retailers
Get started with the best accounting software for retailers, and say goodbye to all your accounting struggles.
We would agree that not all retailers are good accountants. But at the same time, we understand how important it is to track and manage your business. How then are you supposed to combine and handle your retail business bookkeeping/accounting in addition to running your retail business?
Vencru accounting software for retail businesses removes the burden of having to manually manage and track business numbers. With cloud-based features such as invoicing, inventory tracking and management, client management, employee management, expense tracking, etc.
The best accounting software for retailers
As a retail business owner, you don't want to spend hours manually attending to your bookkeeping when you should be focusing on the core of your business.
Vencru has all it takes to transform your retail business accounting in a less stressful and more efficient manner. It doesn't matter if you own a brick-and-mortar store or an online store. We provide you with the best accounting solution.
Stay on top of your cash flow and reduce the time spent in manually managing your retail business.
Track sales by sending professional invoices and receipts, stay on top of your stock levels and inventory movement, manage clients professionally, and collaborate with employees if any.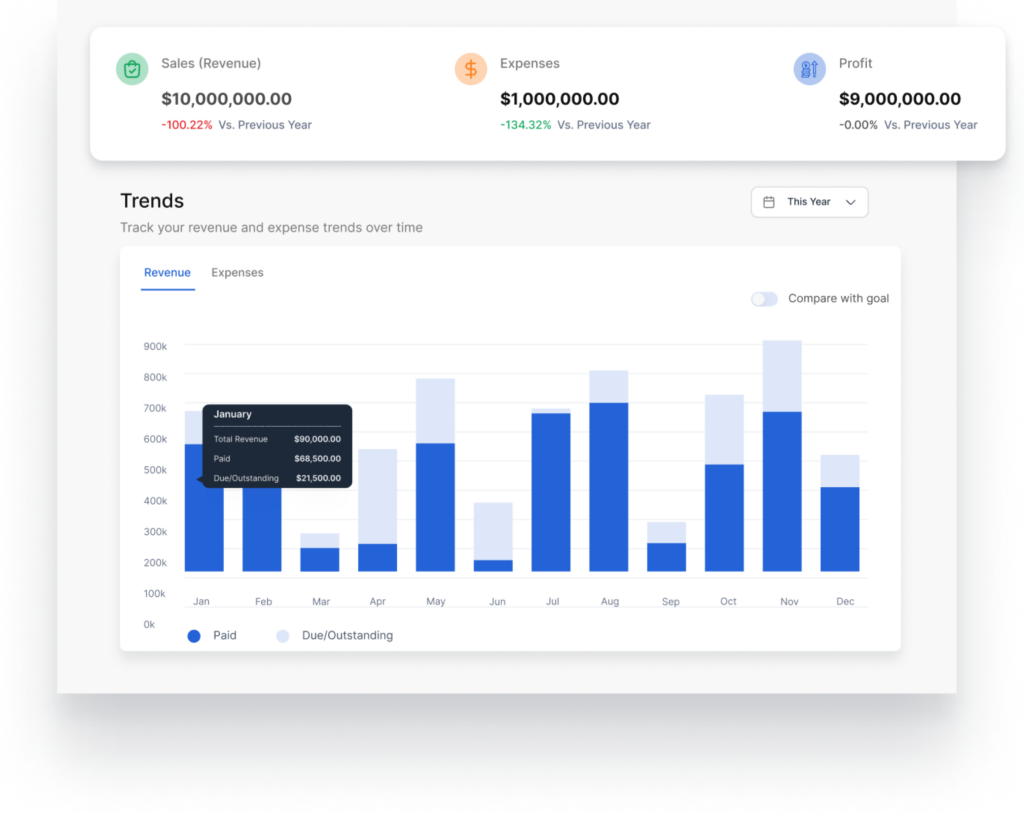 Save time by sending professional invoices and receipts
In any retail business, time is of the essence. Vencru accounting software for retail businesses saves you the time spent manually tracking sales. You can send professional invoices and receipts. Add sales tax to invoices as well.
Your business logo and branding can also be incorporated into these thereby creating the impression of a more professional retail business.
Track debtors in one glance
Tracking debtors can be very time consuming and difficult especially when you don't have an effective system in place. Invoicing tracking helps you filter through invoices to see those that have not been paid or have deposits made. Send payment reminders to your debtors.
Vencru accounting software for retail businesses allows your clients to pay you directly from the invoice. With secure online payment with Stripe integration, Vencru provides a solution that makes both you and your customers happy. Get paid 5x faster and give your retail clients access to a seamless payment experience, after every business transaction.
Stay on top of your inventory
As a retailer or retail business, proper inventory management is one of the most important aspects of your business. Your inventory management should be set up in a way you can get the much-needed information.
Vencru inventory management system for retail business was built with retailers in mind. With our robust stock level management system- you can track stock levels, get low stock alerts, determine the best retail price, and set reorder points. This way, you are cutting down on inventory costs, as well as implementing proper warehouse management.
You can also answer questions such as: what is my best-selling item? What is my profit margin on this particular item?
Or do you even wonder; Do I need more storage space? What is the entire inventory valuation? Which is the exact movement of this particular item?
At the end of the day, you are well aware of what is going on in your inventory without having to spend so much time as the entire is automated.
Find out why business owners around the world love Vencru
Hear from some of our amazing customers who manage their business with our bookkeeping and accounting software
Manage clients professionally
Your retail clients are a very vital part of your business. Proper client management is key to the survival of any retail business. Improve client relationships and provide the best customer support with Vencru.
Store client information like their names, birthdays, company names, etc. Also, learn about their favorite or most purchased items so you can notify them of promotions.
Need to show a history of your client's purchase, download the client statement.
Upgrade your retail business with Vencru double-entry accounting software
As a retail small business owner, every aspect of your business is important- sales, inventory, clients, employees, expenses. But so are your business numbers. How do you ensure you get enough simplified data to make the best-informed business decisions?
We understand that you are a business owner, not an accountant and so, crunching numbers can pose a challenge.
That's why Vencru's double-entry accounting system for retail businesses was designed to help you keep all transactions (debits and credits) in check. Download and review financial statements as well.
With simplified access to these reports, you can take more well-informed business decisions.
Accounting app for retail business
As a retail business owner, you're sometimes on the move and are not available to monitor all activities in your business. But don't worry, with the Vencru accounting app for retailers, you can monitor your business even on the go. You can monitor your business from anywhere, at any time even on the go.
Need to send invoices to customers even when you're not in the store? Do so with the accounting app for retail businesses. The mobile application also allows for inventory tracking systems, in real-time.
Need to check the numbers to make a quick business decision? Review the accounting reports on your mobile app. And the best part of it is that your account is synced across all devices. Small businesses and retail business owners are totally covered.
Choosing the right accounting software for your retail business
When it comes to choosing the right accounting software for your wholesale business, you definitely need to choose one that simplifies the entire bookkeeping process and does not complicate it.
That way, you can focus on the core of your business by strategizing on how to improve sales, profitability, and sustainability of your wholesale business.
Vencru was built with your wholesale business in mind. It offers the best bookkeeping features that save you time. Avoid using complicated spreadsheets or the old-fashioned pen and paper.
Vencru support team is always on the ground to provide the much-needed human support and interaction for your retail business. We go above and beyond to attend to you on any of our support channels: Live Chat, E-mail, or WhatsApp.
Start your 30-day free trial
Join over 25,000+ businesses already growing with Vencru.