Managing and tracking expenses can get messy for a lone individual, let alone a small business – among a dozen of responsibilities that most business owners have to tackle and learn all by themselves along their journey, expense tracking can be one of the most crucial yet grueling.
If your expertise doesn't lie in numbers, then sorting out receipts, managing cash flow, and dozens of other financial documents can get pretty hectic.
Luckily we're not in ancient times where every small calculation had to be done through a hard-working process.
So what are the benefits of using expense tracking tools besides the obvious? 
Claiming your tax deductions will become much more accessible. You won't be getting your personal and business receipts mixed up and have to keep backtracking to figure them all out.
With an organized expenses record, you'll be able to file accurate tax returns much more quickly. Institution asking for documentation regarding your costs won't send you into a frenzy, and you'll be able to provide them in due time. 
You will be aware of exactly where your money is going every month. So it'll be easier to plan ahead and cut spending if things start looking like they're getting out of hand.
Now that we've got that out of the way, here are the seven best tools you can take advantage of to track expenses for your small business
Vencru understands that knowing your business is not enough until you recognize the reasons that will help it to grow.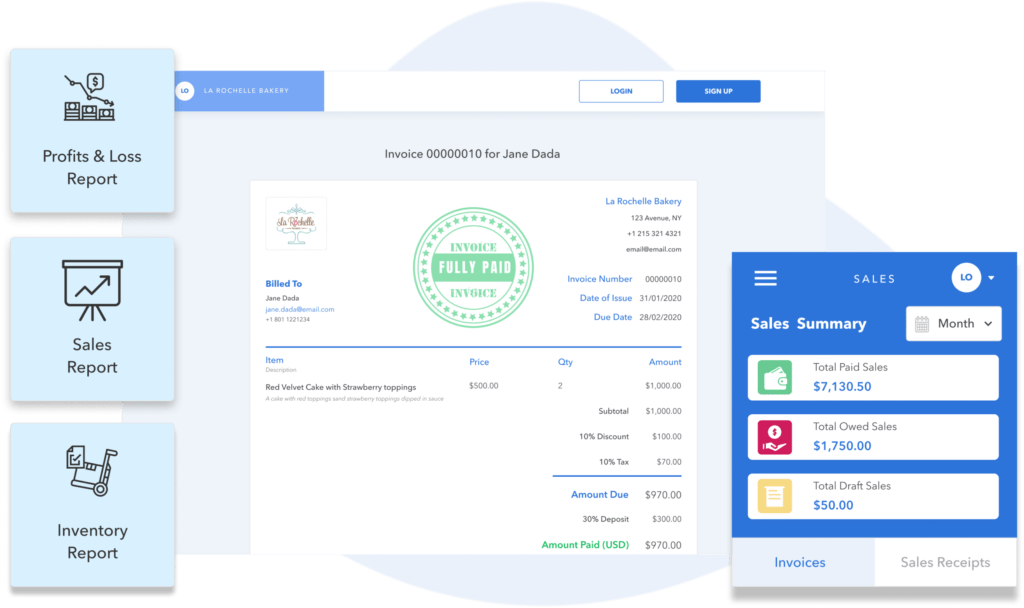 Vencru's expense tracking application comes with multiple features.
It allows small businesses to track their sales, send invoices/sales receipts in less than a minute, track your profit and loss, know your debtors and how much they owe, and generate your bookkeeping report automatically.
Vencru allows you to track your business and personal expenses separately.
Using Vencru, you can add multiple businesses to your account, create and send invoices, and estimate tax figures quarterly. 
Better yet, it's very simple to use and is accessible from anywhere in the world.
Vencru is recommended to businesses of all kinds, self-employed, freelancers, etc.
Mint is a well-known personal expense tracker that's popular among smaller businesses and freelancers to track their expenditures. It allows you to create budgets and goals within the app and even track your credit score.
At the same time, you can set up alerts for bill reminders, making you up close, and personal with your finances and budgeting experience. 
Quickbooks is an accounting software solution for entrepreneurs that is popularly known for expense tracking and has many features you can use.
This application allows you to track business and personal expenses separately. It can track mileage, create and send invoices, and estimate taxes quarterly automatically from anywhere. 
You also have the option of pairing the app with TurboTax and combining your tax filing process along with it.
Personal capital is an investment manager and accounting software that tracks/categorizes all the expenses you make.
The app creates charts showcasing your monthly cash flow and does an excellent job of breaking down your monthly expenses.
It comes in two versions where one has a financial dashboard and wealth management service functions. It also has an investment management option and a Robo-advisor with live support.
While the other only comes with a budgeting and cash flow analyzer. If you're also looking to plan out your retirement, then you're in for luck. It even provides an investment checkup. 
SAP Concur is a business expense reporting app specializing in small businesses and their use. It tracks expenses and has built-in workflows for employee reimbursement, submissions and approvals, invoice tracking, vendor payments, and more. 
An interesting factor of this app is that you can customize it in different ways according to your own needs. 
Freshbooks is an accounting program that offers several helpful project management tools showcased in a minimalist layout. It has a straightforward interface and basic reporting style, so you can track your profit and loss with minimal effort. 
It also syncs with your bank account daily and automatically pulls in the most recent expenses from your credit cards. 
Marcus Insights 
Marcus Insights managed to integrate the best features of Goldman Sachs' Clarity Money app when it shut down in March 2021.
You can find some tools and trackers by the name of Marcus Insights now on their web page and their expense tracking app for business. It has an easy-to-navigate design and supports an extensive range of external accounts.
You can monitor your cash flow with ease as well as track your expenses and see all the spending broken down by category.
Good luck! Make sure you keep an eye out on our blog for many other resources to help ensure the success of your business.