So much is going on these days that is really out of your control. Depending on what industry you're in, you might be having a hard time with your sales. We want to let you know that you are not alone. With the spread of the pandemic, there really is a lot of uncertainty and planning ahead seems like a pipe dream. Realistically, no one can say for sure how badly the economy will be affected by this for months to come; although, there are things you can control. You cannot forecast your sales or know when things will be back to normal again, but you can equip yourself and your team with the resources to come out of this fully ready to tackle what you face will face on the ground. This can be done by taking free business courses for SMEs like yourself. 
As a business owner, depending on the size of your team, you might be handling a lot of tasks that require you to be knowledgeable about a lot of business areas such as accounting, marketing, operations and so on. Maybe you might have been winging it in the past, but now take advantage of the time you have and get the right training. There are a number of free business courses and we have compiled a few important ones relevant to your business.

"How to Validate your Startup Idea" is our #1 free business courses for SMEs
This course is offered by UNSW Sydney and takes you through the process of entrepreneurship and validating your idea. Ideas are great and abound all around us, but is it feasible enough to make you money? It's important to evaluate your business from all angles so you know how to offer better value. This course is great for people who are already entrepreneurs and those who are aspiring to be. You can access it here
Review from class participants:


Business Strategies for Emerging Markets
This course is offered by National Research University Higher School of Economics and takes a more strategic approach by providing you with the skills needed to recognize opportunities as well as threats. The course will help sharpen your analysis, decision making, and planning skills. Also, It will help you put the right structures in place for your brand to be more competitive. You can access it here
Review from class participants: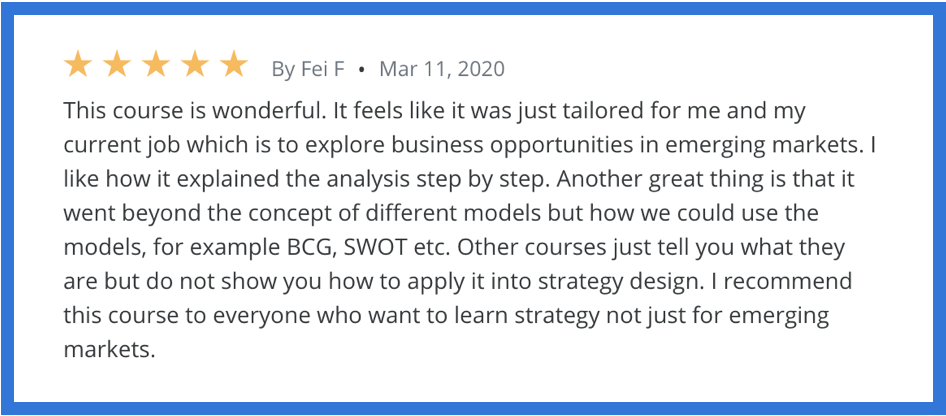 Brand Management: Aligning Business, Brand and Behaviour
This course is offered by London Businesses School and explores the concept of your brand as the experiences people have when they interact with your company. You will be taught how to build your brand from the ground up and make sure your brand-led culture cuts across your entire business. You can access it here
Review from class participants:


"The Strategy of Content Marketing" is an important free business course for small businesses
This course is offered by the University of California and it will teach you the core content strategies you can use to acquire and retain customers. Content marketing has become increasingly more important because it allows you to offer value to your customers before they ever make a purchase. You might be thinking you are doing it right because you have a posting schedule for your social media channels, but it involves more than just being able to do 3 posts per week across channels. This course will help you reassess your current strategy and enable you to make the necessary changes. You can access it here
Review from class participants:


Creative Thinking -Techniques and Tools for Success:
This is a course offered by Imperial College. It will equip you with a 'tool-box' of techniques to help you take a creative approach to the way you think. As with everything that brings results, there is a process and the same goes for the way you think. We added this to our list of free business courses for small business owners because it will help you be a problem solver. In addition, better come up with ideas that drive results. You can access it here
Review from class participants:

The Science of Well- Being:  
This s one of the most popular courses in Yale's history (and Coursera!). It is taught by a psychology professor at Yale. The course involves exploring topics on happiness like the misconceptions of happiness and overcoming our biases. It also involves putting all the strategies discussed in practice. You might think that you have this aspect of your life figured out, but you wouldn't know for sure until you try it. We encourage you to check it out and hopefully it leaves you in a better place. You can access it here
Review from class participants:


How to access these business courses for SMEs on Coursera without paying:
All the free business courses for SMEs referenced in this article are available on Coursera. Taking these courses can help you get prepared to restart your business during this crisis. On the course page you will see a blue button that asks you to enroll. You will click on it and see this picture below. Choose the second option to access the course content.
Bonus: Scribd is an online library containing millions of ebooks, audiobooks, magazine articles and more. They have decided to open up their library for 1 month. This means that you can sign up without providing your credit card details to access the content. I personally use Scribd on a regular basis and they have a huge offering across all genres. You can read all these on your laptop or on your phone so it definitely comes in handy. You can access this option here
For more helpful tips and tricks on how to manage your bookkeeping, and track your invoices and expenses, visit Vencru Business Corner to read more articles like this one!
Vencru is an invoicing and accounting platform for small businesses. Send invoices and track sales, organize expenses, manage inventory, and full accounting reports – all free. Available on Android , iOS, and Web