With the increase in the e-commerce business sector, proper management of retail logistics and supply chain management has become essential. It is highly engaging and customer-centric.
However, these end-to-end (E2E) supply chains are made easier and accessible with technology. So, setting up this process guarantees fast delivery of goods, lower costs, and increased consumer satisfaction.
What is logistics?
Logistics is a term used to describe the means and management of information on the transportation of products and services from one place to another.
Moreover, it focuses on gathering information on the manufactured products and delivering finished goods to each end-user, depending on their specific requirements. And, also moving these finished goods from one place to another.
Logistics is an essential part of the supply chain that plans, executes, and controls the flows, preservation, and storage of goods and services. Most importantly, it also manages the use of data and information between the point of origin to the end-user.
What is supply chain management (SCM)?
Supply chain management is the controlling of the flow of products and services by including all methods that transform raw materials into finished goods.
Read for more information: Supply chain management: Meaning, Importance, E2E
Logistics vs supply chain management
Let me break it down for easier understanding. Logistics is about the "how" within the supply chain.
Questions like: How do you,
Fulfill an order?
Set up the method of transportation?
Track on-time performance?
On the other hand, the supply chain is about the what, where, and when.
Questions like:
What does it look like on a map?
Where does the product originate?
Where is the end-user?
When must the products be shipped to meet the Service Level Agreement (SLA)?
SLA – Service level agreement is a signed document between a service provider and a customer. However, this agreement varies between various industries. And, most importantly, it identifies the services needed for a successful transaction and the expected level of service.
Similarities between logistics and supply chain management
They both circle around the same flow of products and services. From the supplier → manufacturer → wholesaler, and finally → retailer or consumer.
They focus on goods, services, and information for successful delivery.
Logistics and supply chain management move, store and deliver products as productively as possible.
They charge towards supporting the various industry's success and distinguishing it from their competitors.
Both logistics and supply chain management seek to increase customer satisfaction.
Differences between logistics and supply chain management
Now, as there exist similarities, there are also differences that we could gather. For example,
Logistics is an activity in supply chain management. But, supply chain management covers a lot of other activities. Gathering raw materials, labor and facilities management, production until finished goods, planning, and delivering these products, for instance.
Logistics focuses on the reduction in the cost of delivery of goods to the customer. On the other hand, SCM focuses on increasing work performance giving business industries a competitive advantage.
Logistics targets the movement and transportation of goods within a company. However, SCM monitors the production of raw materials into finished goods. Most importantly, the process of distribution down to the consumers.
What is the role of logistics in supply chain management?
The role of logistics in supply chain management is as follows:
Logistics ensures the smooth delivery of products and services to the end-users/customers.
The arrangement of warehousing, efficient transportation of goods, and administration.
Properly packaging and tracking system on products in transit to be delivered.
Inventory management.
How can Vencru help to improve your management experience?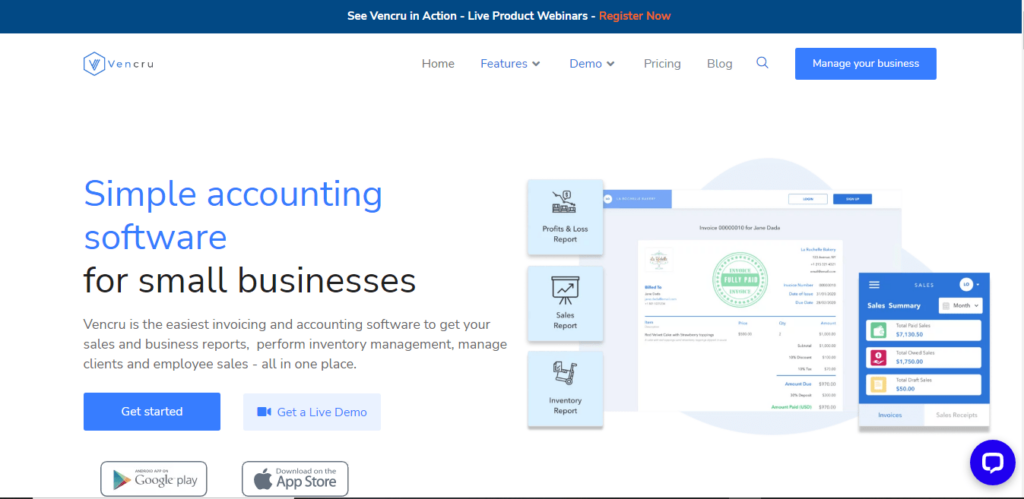 Vencru is the easiest invoicing and accounting software to get your sales and business reports, perform inventory management, manage clients and employee sales – all in one place.
With helpful tips and suggestions on inventory management, accounting as a small business owner, logistics management, and so much more. We are sure to make it simple to grow your business. Yes!
Final takeaway
The purpose of logistics and supply chain management is to serve the "why" of the business by reducing the time and cost between the origin and the destination of the goods. Stay tuned to our blog and get resources to help you navigate the market. Feel free to reach out to us any day and anytime. Good luck.