Logistics management is all about overseeing the process of moving a product from its origin to its final destination. This process may sound simple but it is not. A lack of detailed attention to information on transfers, legal regulations, and methods of transportation can make each transaction unachievable.
What is logistics management?
Logistics management is a part of the supply chain process that organizes, implements, and regulates the efficient, adequate movement and storage of goods. Most importantly, other related information from point of origin to consumption, to satisfy consumer needs.
Examples of logistics management are ships and pipelines that encourage the flow of products and raw materials across processes. Basically, to boost profitability.
Types of logistics
Logistics runs on four wheels:
Inbound logistics
Outbound logistics
Reverse logistics
Third-party logistics (3PL)
Inbound logistics
Inbound logistics is the obtaining of raw materials and distribution of various goods and information through the warehouse.
Outbound logistics
Outbound logistics is in play when finished goods are moved to a customer (for resale) or directly to an end-user. Customer satisfaction is the main objective in an outbound logistics process.
Reverse Logistics
Reverse logistics occurs when there is the movement of items or goods from the end-user back to the appropriate party concerned. Through the supply chain.
For example, a situation where you ordered products online, but they did not meet your conditions. You are left with no option but to request a replacement or refund regarding the product.
Third-party logistics (3PL)
Third-party logistics focuses on the movement of goods from one end to another. Regardless if it is from a seller to consumer or consumer to the seller.
Their main goals are aiding businesses to attend to their primary objectives rather than monitoring delivery services.
Who is a logistics manager (LM)?
A logistics manager is one authorized to oversee every stage of the logistics process.
Functions of the logistics manager
The LM gathers raw materials and delivers them to the production factory
Ensures appropriate storage, optimum utility in the production, and delivery of finished product through the supply chain to the customer.
Most importantly, the LM guarantees optimum cost-cutting measures. So that goods are delivered to the customer at the best price and time required.
How does e-commerce logistics work in the supply chain?
There are a lot of processes that take place in the e-commerce logistics department. For instance, picking a shipping method with the best rates, packaging, scaling of goods, and much more.
Firstly, you need to look for the shipping rate available to you. In doing this, it will be possible to pick out that which will be more profitable and reliable.
Secondly, the scaling of each product is of great importance. The reason is that the value of each product is calculated or rated according to the weight of the product.
Thirdly, the packaging aspect. The logistics department takes care of the packaging process and materials used in the packaging of each product.
Finally, this final process of sourcing and packaging makes it simple to prevent multiple shipments of the same goods or damages.
How can Vencru help to improve your logistics management experience?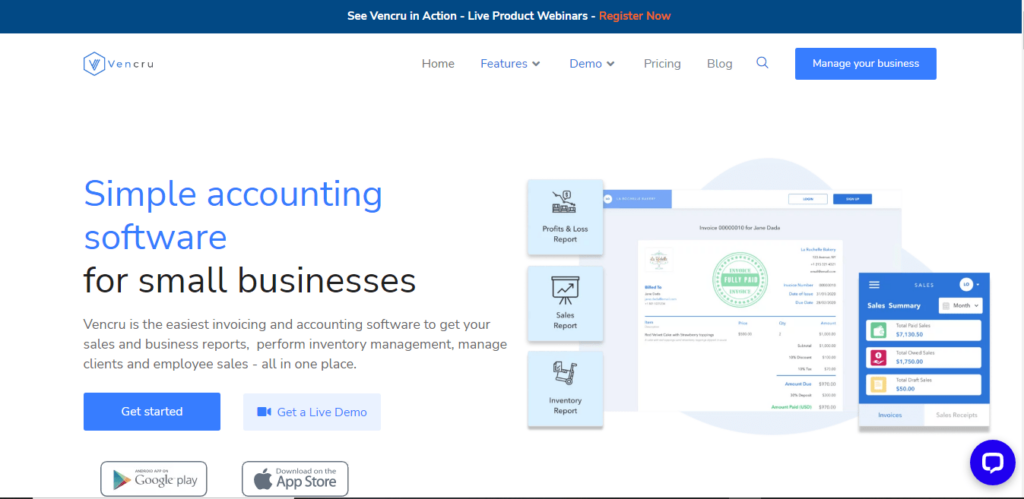 Vencru is the easiest invoicing and accounting software to get your sales and business reports, perform inventory management, manage clients and employee sales – all in one place.
With helpful tips and suggestions on inventory management, accounting, logistics and
supply chain management, and so much more. We are sure to make it simple to grow your business. Yes!
Final takeaway
Good logistics management can help boost efficiency rates, reduce costs, and minimize waste. It also aids businesses to respond promptly to changes in demand by ensuring they can meet customers' needs, especially during high demand.Stay tuned to our blog and get resources to help you navigate the market. Feel free to reach out to us any day and anytime. Good luck.