The e-commerce industry originated from the act of selling and buying products or services online. We can accomplish a series of things with the help of the Internet.
For example:
Research and make inquiries on any topic or information you need clarification
Buy and sell to anyone – From order to pick up and delivery
Deliver your products to the doorstep of your consumer without meeting the person one on one
Read books
Video chat with a friend, a loved one, and even your business partners from far and wide
Make reservations in a country far from your location. For instance, wedding anniversary, honeymoon, business meetings, and so much more
You can also start your business online and sign up with invoicing & accounting software to manage your entire business. For less than half of your daily expenses. Try Vencru!
There are specific components to be considered before creating an e-commerce website to ensure success and optimum productivity.
8 major components of a successful e-commerce website
Are you looking to upgrade and move your retail business online?
If so, this blog is for you. Read to learn more on the 8 major components of a successful e-commerce website.
The platform must be user-friendly
It must be mobile-responsive
Availability of search tool on your e-commerce website
Quality images
Product description must be distinct
Show related products
Easy to check out
Availability of multiple payment options
The platform must be user-friendly
This is one of the most crucial criteria for owning an e-commerce business website.
To test this, you need to monitor a customer navigating your website. Suppose the customer gets to their destination on your website in two to three clicks. And, they accomplished their needs for visiting your website, which is a good sign that your website is user-friendly.
But, if it isn't, you will know right away.
It must be mobile-responsive
Mobile responsiveness became a criterion when most customers use their smart mobile phones and tablets for shopping and, other related internet needs.
So, when designing your website, make sure you consider that option.
Ensure your site still looks attractive, bold, and easy to navigate even when users are on their smartphones.
Availability of search tool on your e-commerce website
The availability of search tools must never be overlooked because not everyone wants to comb through your entire catalog for just one thing.
Your search bar should also have filters to help your customers specify and narrow down their findings.
Quality images
The image quality of your product is what makes your e-commerce website most attractive or not. However, given that customers shopping online might find it difficult to see the product face to face, they will certainly rely on the images you've uploaded.
So, it is pertinent to upload high-quality images of your products to help attract and retain your customers.
Product description must be distinct
A distinct product description is another unique component that accompanies your high-quality product images. The product description contains information about the product or service you are selling.
For example, a product description should include:
Ingredients in an item (if edible)
The dimensions and size of your product
Information about the specific parts that your customers can expect when they choose to buy a particular product and so much more
The product description slot is an excellent section to persuade and describe your products to make them more attractive.
Show related products
On your website, substitute or related products could be displayed below each catalog to help users.
A related products section could also be added to the shopping cart so that customers can easily add these products to their cart.
Easy to check-out
Having a smooth check-out process can be very relieving to users. By providing a convenient check-out procedure, customers will tend to revisit your website at any time to place orders and payments.
Availability of multiple payment options
The availability of multiple payment options on your website can do the trick.
For instance:
Debit or credit card options
Bank transfer options
Online payment options and so much more
How can Vencru help you scale your e-commerce business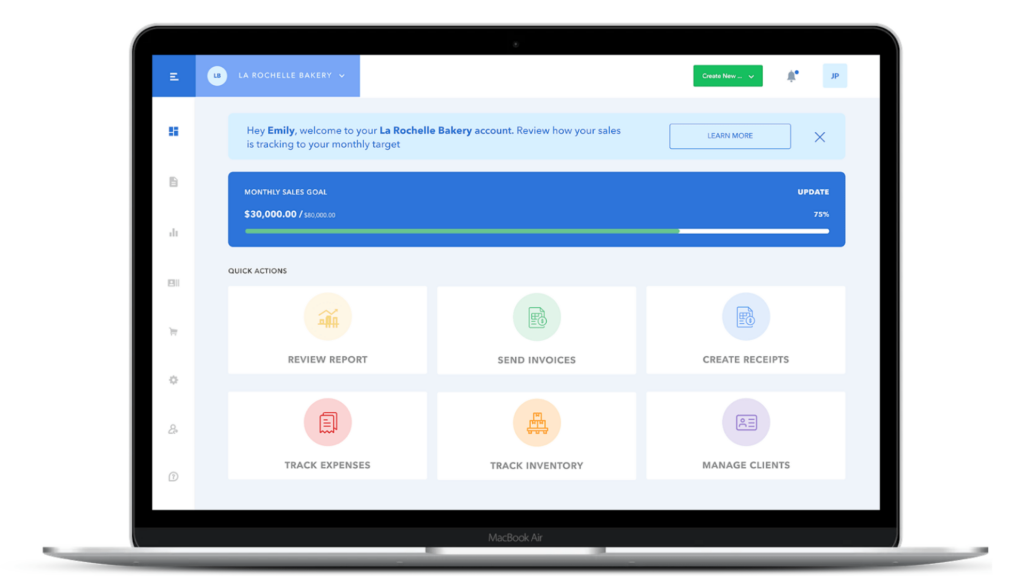 Vencru is the easiest invoicing and accounting software to get your sales and business reports, perform inventory management, manage clients and employee sales – all in one place.
Our mission is to empower the growth of small businesses. With Vencru, you can focus on building your dream business – knowing that you have the information to understand your business better.
With helpful tips and suggestions like those listed above, we would be sure to assist in growing your e-commerce business from little or no profit to maximum and continuous profit.
Final takeaway
To be at the top, you must ensure that your e-commerce website is doing perfectly above all odds. Make sure you keep track of the eight major components listed above. Stay tuned to our blog and get resources to help you navigate the market. Feel free to reach out to us any day and anytime. Good luck.