Understanding the flow of supply chain management is crucial for every business. For example, small businesses or industries looking to:
Reduce their cost of delivery
Deliver products to the consumer faster
Also, avoid shortages in supply
What is supply chain management?
Generally, it controls and monitors the entire production flow of a good or service. From the point of origin to the consumer.
However, during my research, I understood that it is a procedure of just three flows:
Product flow
Information flow
Fund flow
For example –
Product flow: If you take a refillable bottle of water, for instance. You'll notice the filled-in bottle moving from the manufacturer's side to the customer. And empty bottles coming from the customer side to the manufacturer.
Information flow: This refers to the number of bottles of water ordered. However, this type of information flows from both the customer and the manufacturer.
Fund flow: Taking reverse logistics, for instance. This product/payment flows from the customer to the manufacturer.
What is E2E in supply chain management?
E2E means End-2-End supply chain management. It refers to the entire supply chain operation. It begins from the procurement stage and ends when the product reaches the customers.
For successful end-to-end management, the process is analyzed using conditional monitoring or data logging, and the data acquired must be examined for actionable insights.
To properly implement E2E, consider these few things.
Taking a lean approach to inventory management
Strategically plan your team
Putting more effort into demand planning
Take a lean approach to inventory management
By taking a lean approach to inventory management, unnecessary actions are limited, leading to quick task completion.
Strategically plan your team
In supply chain management, human resources is a very crucial aspect. Oftentimes, it's completely neglected. To efficiently build a collective condition for the supply chain – strategic planning for human capital shouldn't be overlooked.
Putting more effort into demand planning
By putting your customers' needs first, you'll be able to build on their ideas and plan a collective process for your supply chain.
How to select the best tool for supply chain management
Understanding your business and the type of goods or services you render to your client is remarkable. This is the ultimate step in selecting the best tool for your supply chain management.
In selecting the best tool that suits your business – you save time, resources, and cost of delivery.
Your business can be classified into one of these supply chain models.
Efficiency oriented
Responsive
Efficiency oriented:
Businesses that prioritize efficiency can source supply chain management tools that are efficiency-oriented. For example, paper-producing companies, cement manufacturers, fashion/fabric producers, etc.
Responsive:
The responsive supply chain model is known for its flexibility, as the availability of such products is highly uncertain. For example, businesses that fulfill custom orders, on-demand production, and those likely to make changes in their products.
Companies that deal in flexible products should result in this supply chain model.
Why is supply chain management important?
Supply chain management is important and beneficial to the growth of any business because:
Firstly, it saves time, resources, and the cost of delivery. Making it possible for a business to manufacture and deliver goods or services to clients in the most reliable way possible.
Secondly, it aids in satisfying customer demands.
Thirdly, it helps in getting the best prices for goods and services. Especially for products with a limited shelf life- by predicting techniques to optimize pricing according to clients' demand. Most importantly, to improve its profit margins.
How can Vencru be of help?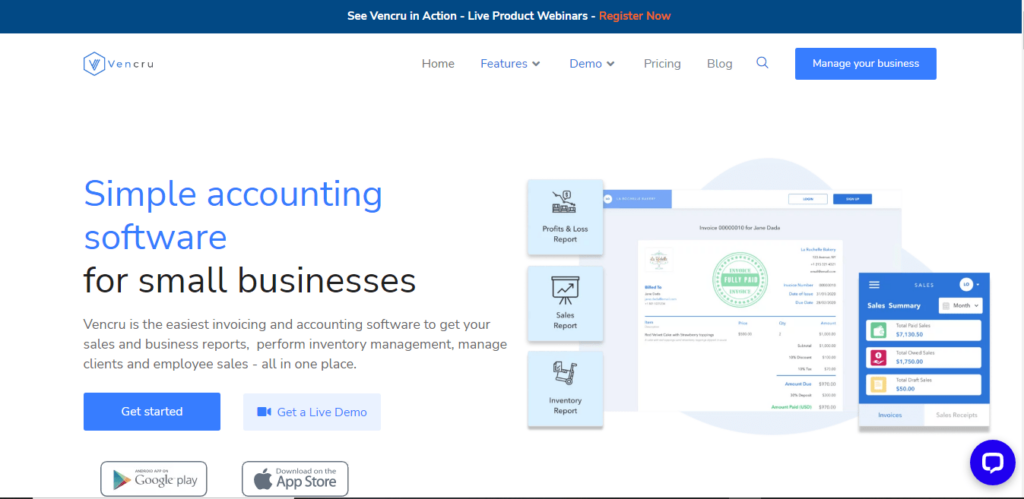 Vencru is the easiest invoicing and accounting software to get your sales and business reports, perform inventory management, manage clients and employee sales – all in one place.
Supply chain management is beneficial for the growth of any business, but it varies in different business industries.
So, understanding the best supply chain management tool suitable for your business should never be stressed. However, we will guide you through this process as you manage your business using our all-in-one software. Sign up now!
Final takeaway
Supply chain management controls the entire production flow of a product or service – from the origin of products to consumers.
However, it is a procedure of just three flows. Firstly, product flow. Secondly, information flow. Thirdly and finally, fund flow.
Stay tuned to our blog and get resources to help you navigate the market. Feel free to reach out to us any day and anytime. Good luck.