Do you know that the supply chain is the backbone of your business operation? So, reading and learning more about this is never a waste of your time. However, it's for the benefit and growth of your business.
Read further to understand more about the supply chain and how we can assist you in taking your business to the next level.
What is supply chain?
Supply chain is the process required by a retailer or e-commerce business to deliver products and services to its customer.
It can be defined as a system of producing and delivering goods or services. From sourcing for raw materials until the end when the final products are delivered to their end-users.
What are the elements of supply chain?
There are various elements of supply chain, but we will be discussing three important aspects:
Product development
Marketing
Operations
Product development
This is all about the process of taking a product or goods to market. However, either new or already existing products.
The product development process consists of,
Firstly, understand the needs of your target audience
Secondly, brainstorm on the product
Thirdly, build a strategy for the product (what you plan to achieve)
Finally, launch the product, sit back, and retrieve feedback from the usage of the product
Marketing
In short, with the use of quality research and advertisement (ads), you can rightly promote your product and sell.
Operations
Operations are about the conversion of materials and labor into goods and services as efficiently as possible to maximize the profit of an organization.
The stages of supply chain
There are five various stages or steps of the supply chain.
Planning
Sourcing
Making – Assembling and packaging
Delivery – Transportation
Customer service
Planning
Firstly, plan your production process. Your ability to keep the needs of your target audience in mind, both in quantity and quality, is highly resourceful. And, however, paramount.
Sourcing
Secondly, sourcing raw materials and everything needed to produce the final product is vital. This step ensures that paperwork is vetted and documented, including other related issues.
Making- Assembling and packaging
Thirdly, this stage is of two sections.
In assembling, you need to gather all parts of your product and begin to test the product. Trying the product puts you on a different level and at ease when your feedback is negative. Because they can be easily corrected and pushed back in for re-testing.
Afterward, packaging of the product for shipment, storage, and exportation reasons next.
Delivery – Transportation
Fourthly, moving and delivering these products to the distributor or retailer is carried out. However, it's sometimes sent directly to the consumer.
Customer service
Finally, you must note that some of these products might be returned. You need to keep your service top-notch by providing capable and good customer service representatives to address their problems when the calls begin to come in.
Types of supply chain model
There are a series of supply chain models open to the use of retail businesses or e-commerce businesses ready to improve and grow their business.
The question is, what does the supply chain do for you? How does it help your business?
Most importantly, the main goal of a supply chain model is to satisfy your customers. Because a satisfied customer will keep patronizing your retail store or e-commerce business.
The supply chain model is classified into two (2) sections.
Efficiency oriented supply chain models

Efficient model
Fast chain model
Continuous flow model

Responsive supply chain models

Agile model
Flexible model
Custom configured model
Efficiency oriented supply chain models:
These supply chain models specialize in prioritizing efficiency and are equipped for selected businesses or industries. For example, fashion businesses, cement businesses, paper producing businesses, etc.
Efficient model
This model is suitable for businesses operating in a highly competitive market. For instance, your next-door neighbor could be your competitor. Hustling for the same customers.
The business owner must completely utilize the machinery available to maintain a reduction in the cost of production. To profit from this business type.
Proper management of inventory and meeting your customers' needs are vital for the growth of your business.
Fast chain model
This supply chain model is suitable for businesses that produce products having a short life cycle. They are more like trendy items or accessories. For example, fashion wears, home accessories, etc.
You should also note that the fast chain model is very accurate in reducing the difference between demand and supply. And also, ensures the affordable cost of products for customers.
Continuous flow model
This is one of the oldest supply chain models. Just as the name implies, it ensures stability and continuous flow of information on the high-demand situations of products.
This supply chain model is suitable for mature businesses that already have a list of customer profiles. However, it must be consistent to keep up with the flow of demands and orders.
Responsive supply chain models:
The responsive supply chain models are known for their flexibility since the availability or production of such products is highly uncertain. It is suitable for businesses in "on-demand" situations. For example, businesses that fulfill custom orders and those likely to make changes in their products.
This model is prone to human errors based on inconsistency. For example, the same company could be producing accessories for mechanical equipment but, the next week, find them manufacturing tools or apparatus for construction companies, etc.
Agile model
This supply chain model is focused on increasing production just at short notice. Moreover, when the demand is low, it can remain constant.
It is suitable for businesses that deal with uncertain demand.
Flexible model
The flexible model grants businesses the right to meet the high demand and manage prolonged periods of little or no order.
It is suitable for businesses with highly unexpected demand. Meanwhile, production under this supply chain model can be easily controlled and has a high response rate.
Custom configured model
This model focuses on providing custom configurations, most importantly, for assembling and production processes or phases.
For example, in engineering the procedures and steps for sub-assemblies, like assembling gears in a vehicle, are complicated. And very lengthy because of the complexity of connecting mini parts. However, joining these multiple sub-assemblies into a final product is too easy.
How can Vencru help drive supply chain transformation for you?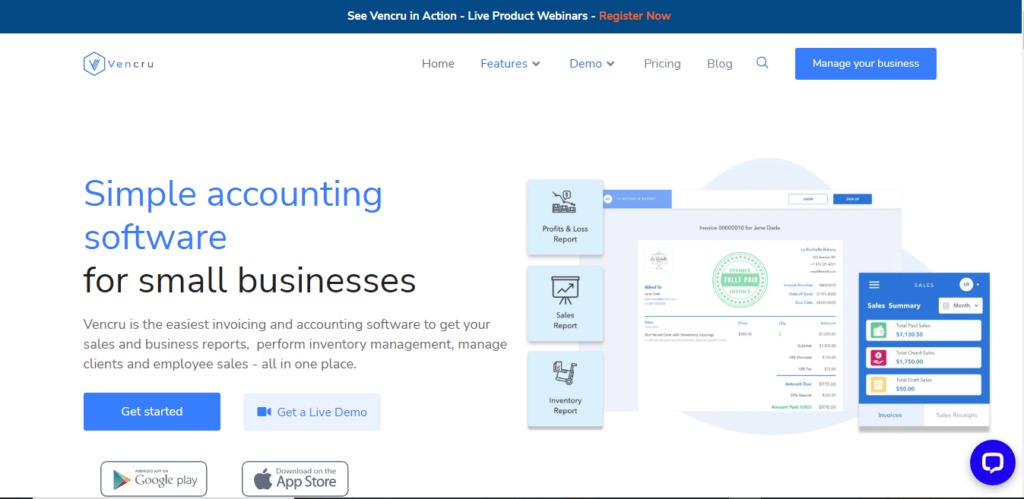 Vencru is the easiest invoicing and accounting software to get your sales and business reports, perform inventory management, manage clients and employee sales – all in one place.
As business industries vary, so is their choice of supply chain. Understanding the supply chain model suitable for your business is of great importance. And, we will guide you through this process as you manage your business using our all-in-one software. Sign up now!
Final takeaway
There are six supply chain models to choose from. However, all of these models focus on two distinct points. Firstly, responsiveness, and secondly, efficiency.
Stay tuned to our blog and get resources to help you navigate the market. Feel free to reach out to us any day and anytime. Goodluck.