Supply chain management is the foundation of the e-commerce business. With the rapid growth in emerging markets and the expansion of digital channels, consumers are becoming online shoppers.
The internet introduces consumers to new brands and products. Most importantly, far from what they get from their local retail store.
But, the significant challenge for brand owners and their supply chain management processes is to be more active in attending to customers' demands.
Impact of e-commerce on supply chain management
The impact e-commerce has on supply chain management can never be over-emphasized. Above all, e-commerce has a significant impact on supply chain management. Making it easier for consumers to purchase goods and services from anywhere in the world.
Before e-commerce, consumers were limited in their purchases. Because they had access to products only available in local retail stores accessible to them. However, with the rise of e-commerce businesses, consumers can purchase products from various suppliers from the comfort of their homes.
Therefore, making e-commerce safer and accessible to consumers in ordering their desired merchandise at a comparable price. And, leading to increased competition amongst sellers putting their best foot forward in:
Firstly, the cost of products and services
Secondly, the quality of products for sale
Thirdly, the quantity ordered
Fourthly, time of delivery
Finally and most importantly, customer relation management
What are the major supply chain challenges in the e-commerce business?
Supply chain challenges in e-commerce businesses can never be overlooked.
There are two major supply chain challenges and other related supply chain challenges.
Two major supply chain challenges
Inventory management
Cost of shipping goods
Inventory management
Poor inventory management is a challenge and disadvantage in the e-commerce business. Moreover, the inability to supply your consumers with their desired products and quantity order will lead to the loss of such customers.
Therefore, having little or excess products has its disadvantages. Customers tend to patronize your competitors when you become less reliable, for instance.
Cost of shipping goods
Shipping costs are another major factor threatening the success of every supply chain management. Certainly, none is willing to spend an extra dime than expected on the product they supply or receive.
Other related supply chain challenges
Complexity of infrastructure
Unreliable stock levels
Logistics
Reverse logistics
Tax regulations
Complexity of infrastructure
With complex infrastructure, we see storekeepers handling continuous orders, and requiring larger hands on deck. In the same vein, the scarcity of well-structured warehouses is on the rise. Making it difficult to access goods when needed to restock the shelves – leading to expired, overstocking, and outdated products. On the other hand, this can crush a business.
Unreliable stock levels
Having more stocks than you can account for is an example of poor inventory management. Most importantly, effective inventory management is an important factor in e-commerce business to avoid experiences of unreliable stock levels.
For instance, having little stock available whereas your inventory record says otherwise, or the other way around. So, there are numerous ways to manage inventory. And, it's of great importance to find the tool that best suits your business needs. For example, Vencru- an all-in-on-invoicing and accounting software for small businesses.
Logistics
Experienced transport and shipping logistics companies dedicated to e-commerce sectors are those left to handle this section. But, having the right equipment and expertise that helps in the efficient online processing of orders puts you in control.
Reverse logistics
Reverse logistics are situations when customers return products you have supplied them with. However, this gives rise to questions like why did they return it? Are the products expired or outdated? Or, was there a delay in delivery? Most importantly, if such products were sent across the border, it gives rise to more complications. Above all, leading to a loss in sales.
Tax regulations
E-commerce is driving digital transformation and giving rise to supply chain expansion.
At the sight of these, government authorities write tax policies that checkmate the trend of this expansion. However, these new tax guidelines for the global digital market pose a huge challenge to e-commerce businesses.
Solutions to the supply chain challenges in e-commerce business
The solutions to the supply chain challenges are as follows:
Firstly, properly organize inventory to maximize space in the warehouse.
Secondly, look out for cheaper, faster, and more reliable shipping companies for deliveries.
Thirdly, search for reliable inventory management software that can help in tracking your stock levels. Value of your products in cost and quality, for instance. And most importantly, monitor your customer's orders. Thereby, keeping you up to date on data acquired for your benefit and reuse.
Finally, keep customers informed of their delivery status. Likewise, giving room for transparency, trust, and an increase in brand authority.
How can Vencru help your e-commerce business?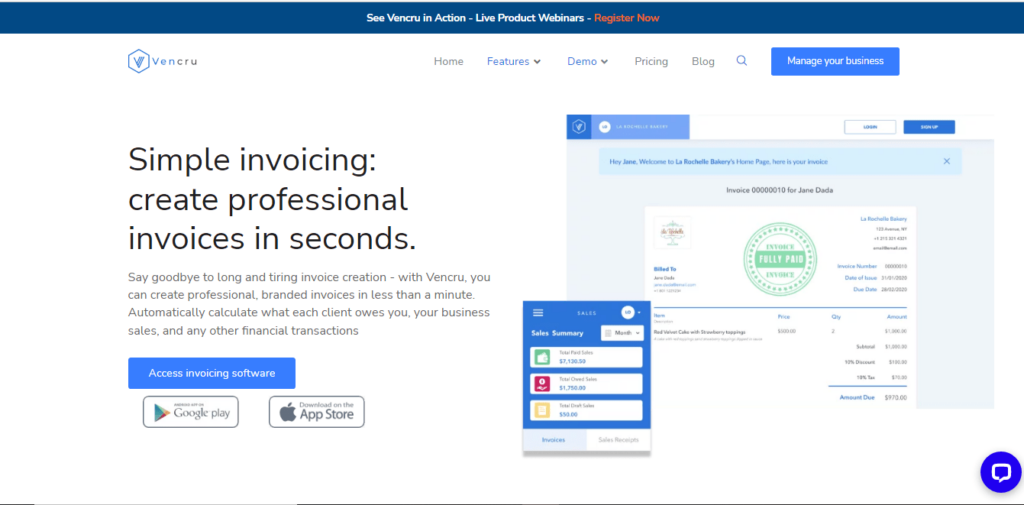 Vencru is the easiest invoicing and accounting software to get your sales and business reports, perform inventory management, manage clients and employee sales – all in one place.
E-commerce has narrowed down supply chain management. So, understanding the best way to benefit from it will do your business a lot of good.
That's the reason we are presenting you with our all-in-one software with many features to benefit your e-commerce business like:
Final takeaway
We discussed the two major challenges of the supply chain in e-commerce. Firstly, inventory management. Secondly, the cost of shipping products. Meanwhile, understanding this context keeps you at the top of your game. So, stay tuned to our blog and get resources to help you navigate the market. Feel free to reach out to us any day and anytime. Good luck.