As a retailer dealing with many goods, you must have experienced inventory shrinkage just like I have. This is painful, unprofitable, and a huge disadvantage to any business going through this phase.
Most importantly, it is experienced by retailers. Just beginning a type of business for the first time and lacking quality inventory managerial system and skills.
What is Shrinkage?
Shrinkage is a phase in a business cycle when retailers notice fewer stocks available compared to their inventory list.
What is shrinkage in inventory or inventory loss?
Shrinkage in inventory, also known as inventory shrinkage or inventory loss, could mean only one thing: an unplanned loss of goods.
Inventory loss refers to the decrease in the number of existing stocks from the list registered in your spreadsheet.
This occurs as a result of two major causes:
Firstly, theft by employees, customers, or vendors, for instance.
Secondly, errors in mispricing, inaccurate information input into the database, and so much more.
Inventory Discrepancy
Inventory discrepancy has a similar definition to shrinkage in inventory. That is to say, it is the difference between the goods documented or recorded and the existing inventory.
For instance, inventory discrepancy leads to loss of profit, brand identity, customers, and so much more.
Related: Inventory management: 6 tips to evolve your inventory
What is Retail Shrinkage or Retail Shrink?
Retail shrinkage is the difference in the number of goods a retail company registers in its report. And, the results of manual counting of those products.
However, retail shrinkage is recorded when you notice fewer goods on your shelf than your accounting report reflects.
Related: 10 fascinating steps on how retail stores track their inventory
How To Calculate – Inventory Shrinkage
There are four steps needed to calculate it.
Firstly, calculate your available stocks originally supplied (Recorded inventory).
Secondly, coordinate counting your physical inventory available on your shelf (Actual inventory).
Thirdly, subtract the actual inventory from the recorded inventory (Inventory shrinkage).
Finally, divide the final figure gotten as your 'inventory shrinkage' by 'recorded inventory' (Shrinkage rate).
For example:
A retailer that sells bottled water has a record inventory of $950. She coordinated a manual inventory counting and came up with $890 as her actual inventory.
To calculate her inventory shrinkage, here is the formula
Inventory shrinkage = Recorded inventory – Actual inventory
= $950 – $890
= $60
Shrinkage rate = Inventory shrinkage / Recorded inventory
= $60 / $950 = 0.0631579
= 6.3%
So, from the information above, there is a high inventory shrinkage rate. This is not good and sometimes unavoidable. However, it is crucial to regularly re-check your stocks and your accounting reports or records to minimize such losses.
Related: Inventory accounting valuation methods – EI
What Causes Inventory Shrinkage?
As briefly mentioned under inventory loss, there are quite a few causes:
Human mistakes
Clerical error
Vendor error
Damaged products
Theft
Waste and spoiled goods
So, let's begin by explaining them…
Human mistakes
Human errors are mistakes made by humans (employees). However, they are inevitable and happen whenever employees miscount inventory. Most importantly, incorrectly stored goods can also lead to the loss of products, which possibly might expire upon recovery.
Clerical error
Clerical errors are mistakes initiated by employees handling the administrative sector of your retail business. However, they are experienced with the usage of an inventory system. Some clerical errors include errors in pricing, problems with reorders, and poor input of figures.
Vendor error
Vendor error is also known as supplier error. This is when your supplier undersupplied you. Sometimes, this is a mistake on the part of your supplier. But, it falls back on your employee receiving the newly supplied product to count and vet all stocks effectively. For instance, faulty products, errors in counting, choice of products as ordered, and products close to the expiration date.
Damaged products
Damaged products are a huge disadvantage in retail shrinkage. Therefore, the exchange and return of products due to faulty/damaged products contribute to this cause of shrinkage.
Theft
Theft can be carried out in two ways:
Firstly, when a customer does it (shoplifting) – external.
Secondly, when done by your employee – internal.
So, if carried out by an employee, it is mostly not noticed. Because they have access to the POS – point of sale system where they easily adjust the stocks available.
One of the quickest and most resourceful ways to avoid this measure is to use Vencru's premium service. With this, you can limit your employee's access to your finance and stock records, just as I did.
Waste and Spoiled Goods
Waste and spoiled goods have a high impact on businesses on perishable items. For example, retail food vendors, beverages, fruits, etc.
When dealing with perishable products that last a few days, waste and spoilage can significantly cause retail shrinkage.
Ways to Stop or Prevent Inventory Shrinkage
Use trusted inventory and accounting software for your retail business
Eliminate human error
Add an employee integrity test to your list of validation before granting employment. 
Train your employees/staff
Security alertness
Track inventory shrinkage
Use trusted inventory and accounting software for your retail business
Using a trusted and tested inventory and accounting system for your retail business is very important. Any inventory system that's, for instance,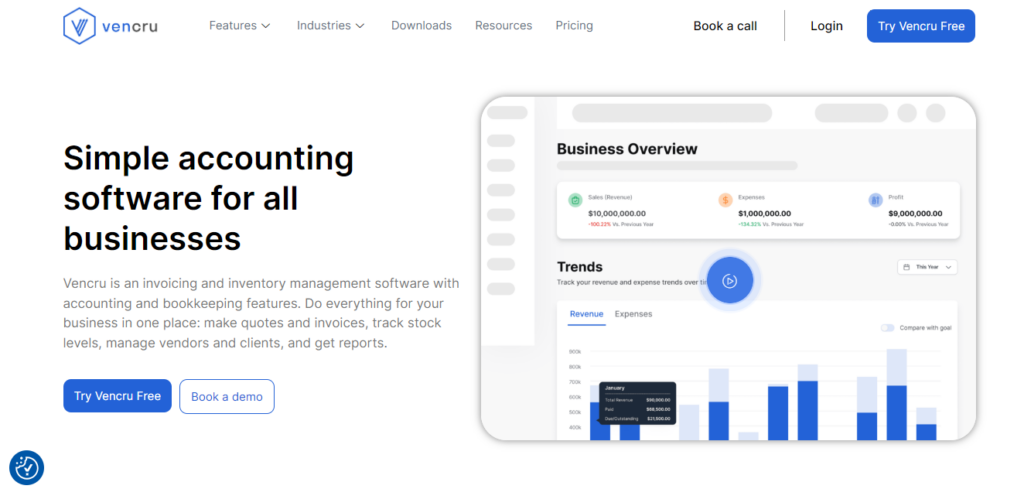 Free and low cost plans available
Easy to navigate
Sends invoices and manages your debtors
Automatically track your inventory (stock levels)
Understands your expenses better and is willing to minimize it
Provides you with easy-to-understand accounting reports
Organize your customer lists
Adds value to your business
Do a lot more from one platform…get your job done!
Eliminate human error
To eliminate human error, you will require inventory management software. To clarify, this moves your retail business into an automated system.
For example, this software aids in:
Updating your inventory
Avoiding inventory theft by monitoring your employee's activities, performance, and stock levels
Managing your retail business
Providing accounting reports
And so much more
Add an employee integrity test to your list of validation before granting employment
Before hiring any staff, your prospective employees must be validated before they can work in your retail store. Giving you more knowledge on,
Firstly, who you are employing.
Secondly, what is their level of commitment in carrying out their job position?
Thirdly, their level of understanding and, so much more.
Train your employees/staffs
Training your employees on their roles and how to work efficiently using your selected inventory system is necessary.
Security alertness
One other way to stop inventory shrinkage is by updating your security personnel. For example, installing CCTV cameras, spy software, restrictions on your retail application (retail app), within your retail store premises, etc. 
Track inventory shrinkage
In addition, by calculating your inventory regularly, you will be sure to notice any level of shrinkage earlier and, begin to make adjustments.
How can Vencru Help you Stop Inventory Shrinkage or Loss and Grow your Business?
Vencru is the leading software solution for all your accounting and retail inventory management used by retail stores/e-commerce businesses. Vencru is very simple to use and is accessible from anywhere in the world. And it's got a transparent online payment option.
Vencru can help you stop inventory shrinkage by allowing you
Track your inventory
Track sales level
Monitor your employee performance and activity
Manage your business
Send invoices and so much more
Track your profit
Final Takeaway
In summary, monitoring your inventory shrinkage levels keeps you on track as a resourceful retail business manager. Few or no inventory shrinkage issues can increase profit levels and brand identity.
However, for your benefit, use the latest, easy-to-navigate, resourceful, and most efficient inventory management system, Vencru. 
Sign up with us today and stop inventory shrinkage in your business. Stay tuned to our blog to get resources to help you navigate the market just as an experienced retailer would. Do contact us to book a demo. Good luck!