Vencru Security Measures: Protecting Your Data with Industry-leading Safeguards
At Vencru, we understand that the security of your business data is of utmost importance. We have implemented robust security measures to ensure that your information remains safe and confidential. In this page, we will outline the security controls we have in place to protect your data, as well as the product features that support these measures.
Your data is encrypted using industry-standard 256-bit SSL encryption during transmission. This ensures that any information exchanged between your device and our servers is secure and protected from unauthorized access.
Automatic Backups and Redundant Servers using AWS
We take data protection seriously. Our system automatically backs up your data regularly, and we store these backups on redundant servers using Amazon Web Services (AWS). This ensures that even in the event of a server failure, your data remains safe and accessible.
Secure Development Practices Described in OWASP
Our development team follows secure coding practices outlined by the Open Web Application Security Project (OWASP). By adhering to these industry best practices, we minimize the risk of security vulnerabilities in our software and ensure the overall integrity of our system.
Application Behind Firewalls
Our application is hosted on servers protected by advanced firewalls. These firewalls are designed to prevent unauthorized access, malicious attacks, and other threats from reaching your data.
Manage your client information with ease. Ensure all the client's information is organized and available at your fingertips.
Annual Penetration Testing
To further enhance the security of our platform, we conduct annual penetration testing. This involves simulated attacks on our system by external security experts to identify any potential security gaps. By proactively identifying and addressing vulnerabilities, we maintain the highest level of protection for your data.
Product Features Supporting Security Controls
Session/Activity Tracking
Vencru logs the IP address of every session for your account, as well as the actions taken by your users. This feature enables you to monitor and review user activity, helping you identify and respond to any suspicious or unauthorized actions promptly.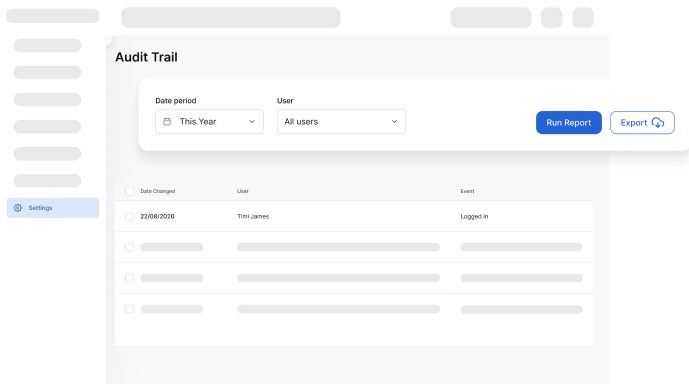 Create Role-Based Permissions
With Vencru, you have full control over user access and permissions. Assign specific access levels based on your firm's employee roles, ensuring that each user has appropriate access to the information they need. Easily configure permissions for creating, viewing, editing, or deleting information, enhancing the security and integrity of your data.

At Vencru, we are committed to maintaining the highest level of security to protect your valuable data. We continuously update and improve our security measures to mitigate risks and safeguard your business information. Trust Vencru to keep your data secure, allowing you to focus on what matters most: growing your business.
Secure and streamline your business operations with Vencru
Experience the power of secure and efficient business management with Vencru. Sign up now and gain access to our intuitive platform, equipped with top-tier security measures and features designed to support your business success.
Download our mobile app and never miss an opportunity for easy bookkeeping while on the go! You can take manage your clients, sales, expenses, inventory, and everything through your mobile app from anywhere.