Do you ever wonder how to price your products or services? We get asked a lot about how to price business products and services. Below are 5 things to consider when calculating your product/service price
Tip 1: Track all Business Cost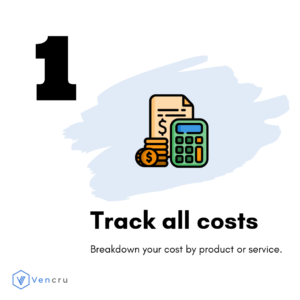 Tip 1- Track and include ALL costs:
Whether you offer a service or product it is important to track all costs & include them in your pricing. ⁠There are two types of costs: Fixed cost and variable cost. ⁠
FIXED COSTS: Fixed costs are those monthly costs you must pay REGARDLESS of how many products/services you sell. These can include, office space rental, marketing cost (sometimes), administrative staff, utilities, etc. ⁠ To include fixed costs in your product pricing, you will need to ESTIMATE how many products/services you EXPECT to sell or produce. More on these later. ⁠
VARIABLE COSTS: These tend to be easier to track. These are costs directly related to producing ONE product. For example, raw materials cost, logistics/distribution cost, etc.⁠
⁠
Tip 2: Add time spent by you and your staff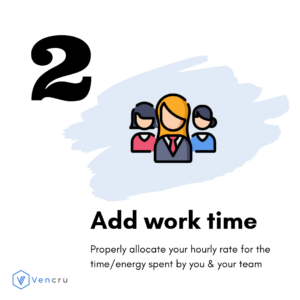 Tip 2- Add your work time:
Time is money! Track how long it takes to produce your product and service to your price.
Have staff? Also, calculate and include their time. ⁠
Tip 3: Add your perceived value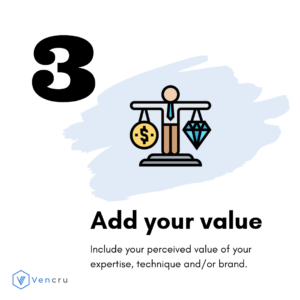 Tip 3 – Add your perceived value:
Your product/service price is not only driven by cost and time. ⁠Add the value of your brand, expertise, and technique. ⁠
⁠
Apple and Honor phones both provide the same service but Apple is priced higher because it is a stronger brand. ⁠
Tip 4: Compare your prices to competitors and market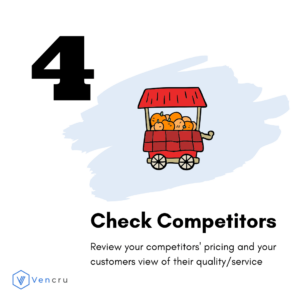 Tip 4- Review your competitor's pricing:
Customers care about value and price. You don't want to over-price your business out of the market. You also don't want to underprice your business, leaving MONEY on the table⁠.
Tip 5: Include Sales Tax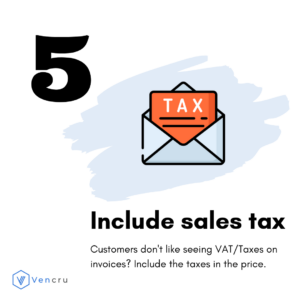 Tip 5- Add your tax:
Don't forget your taxes! At Vencru, we get asked a lot but how to handle customers that don't want to pay taxes. Adding the taxes into the product/service price will solve this problem. ⁠
⁠⁠
⁠
Your Product and Sales Price:
Therefore, to price your products or services, you have to combine all your cost, time spent, perceived value and sales tax

That's all folks on how to price your products or services. With a good pricing strategy, you can then create invoices for your customers, knowing you are capturing the right value. Download a free invoice template here.
Vencru is a free invoicing and accounting tool for small businesses. Send invoices, track inventory, and review business financials from anywhere. Get started with the Android App (iOS coming soon).
⁠