Tracking your business sales is crucial to having a successful business. To do that, you need to keep invoice or sales receipts records. At Vencru, we get asked by people starting out businesses what should a good invoice template or sales receipt have. The guide below explains the important aspects of invoices.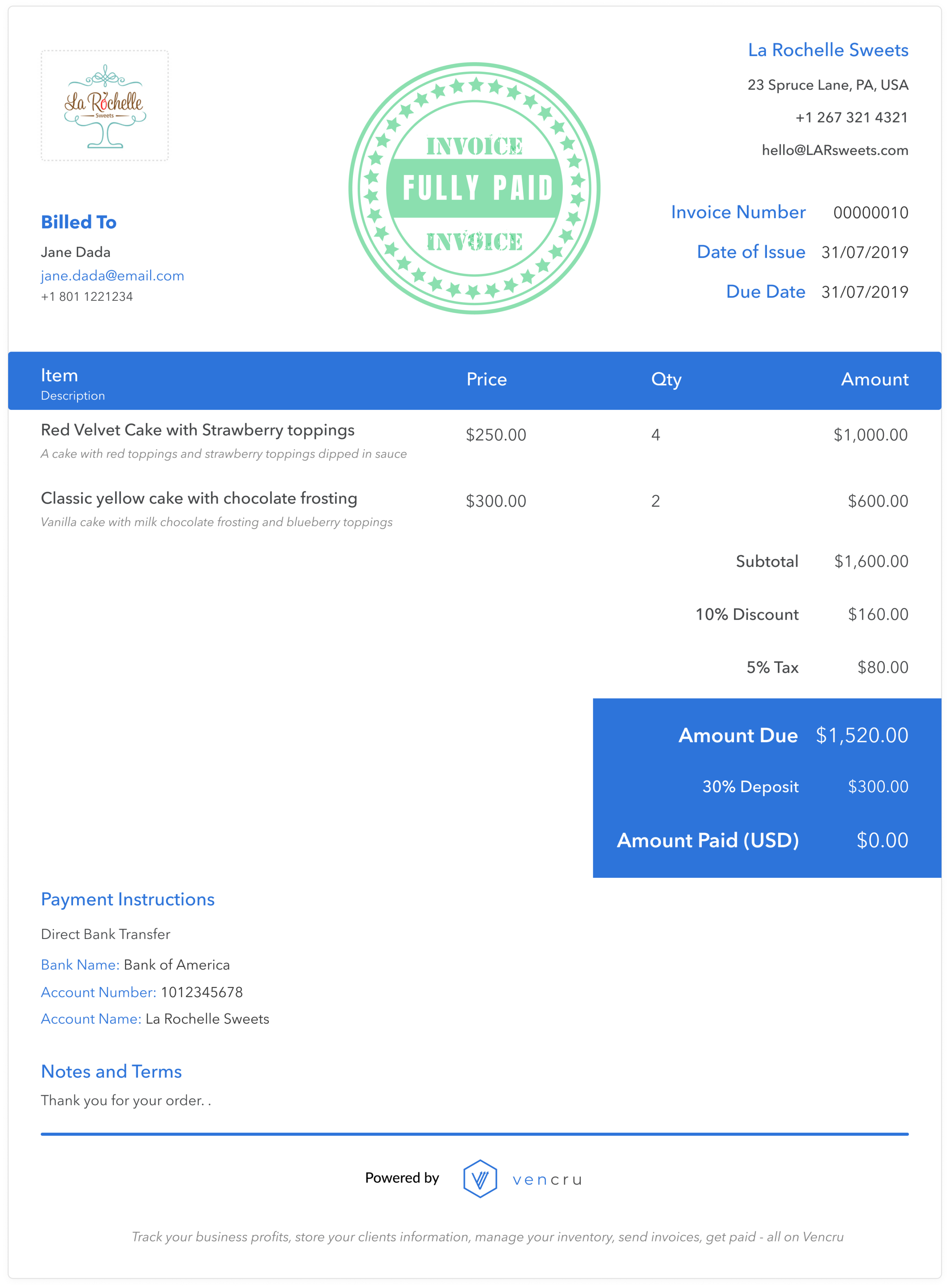 Company Information and Branding:
In your invoice template, you should have your business name, address and logo. You want to leave the right professional impression with your clients. This will help them remember your business name for future referrals. Also include your clients information to ensure the invoice is addressed to the right client.


Invoice tracker:
An invoice number, date of issue and date of payment should be included in each invoice. This is important to track and manage your business records. For each business transaction, the invoice number should be different. Unique numbering can be acheievd by increasing the invoice number by 1 each time you create a new invoice. The date of issue is the date the invoice was created. The due date is when the invoice payment must be received. Ensure the due date of the invoice is clearly visible. This will help reduce future awkward "Madam/Sir, your invoice is overdue".

Product and Service Description and Rate:
In your invoice, simply writing "Bag – $25" is not enough. Your invoice template should provide a clear detailed and accurate description of the product or service that you are selling. This will make your business look more professional and avoid any confusion that might delay payment.

Invoice Total
Each section includes the total cost of the products and services you are selling. It shows exactly how much your customer owes you. You can also choose to include Tax, discount, and deposit in the total invoice. Any payments already made are included as "Amount Paid" section of the invoice.

Payment Instruction:
Now to the part we care about the most – how we can get paid! Include all payment methods your business accepts (Bank Transfer, Online payment etc). Ensure the quickest and easiest payment option is available for YOUR client. Let's avoid influencing debtors mindset.
This summarizes the key sections that your invoice template should have. These are also sections that should be included in your sales record. You can access free excel invoice templates here.
To create invoices in less than 1 minute from anywhere, download the Vencru app. Vencru is a free invoice app for managing your business operations. Get access to the information you need to run your business from anywhere.
Vencru
is a free invoicing and accounting tool for small businesses. Send invoices, track inventory and review business financials from anywhere. Get started with the
Android App
(iOS coming soon).