In the dynamic world of retail and wholesale operations, staying ahead of the game requires impeccable products and seamless processes that fuel growth and efficiency. We understand the challenges retailers and wholesalers face when managing vendors, purchasing orders, and billing.
With this, we're thrilled to unveil Vencru's Vendor Management Feature. With these powerful tools, you can simplify and optimize your vendor relationships, purchase orders, and billing processes.
The Problem: Improving the Vendor Management Process
For retailers and wholesalers, vendors are the backbone of their businesses. Efficiently managing a network of suppliers while ensuring timely deliveries, accurate orders, and transparent communication is no small feat. Retailers and wholesalers often find themselves juggling a multitude of suppliers, each with their own terms, pricing, and ordering procedures. 
Manually keeping track of these details can lead to errors, delays, and missed opportunities. Coordinating purchasing orders and ensuring timely payments is a complex task that demands a streamlined solution
The Solution: Vendors, Purchase Orders, and Billing
Recognizing these pain points, we've developed Vencru's Vendor Management Features to transform how you interact with suppliers. Our integrated suite of tools addresses the challenges of vendor management, purchase orders, and billing, paving the way for streamlined operations and stronger relationships.
1. Vendors Hub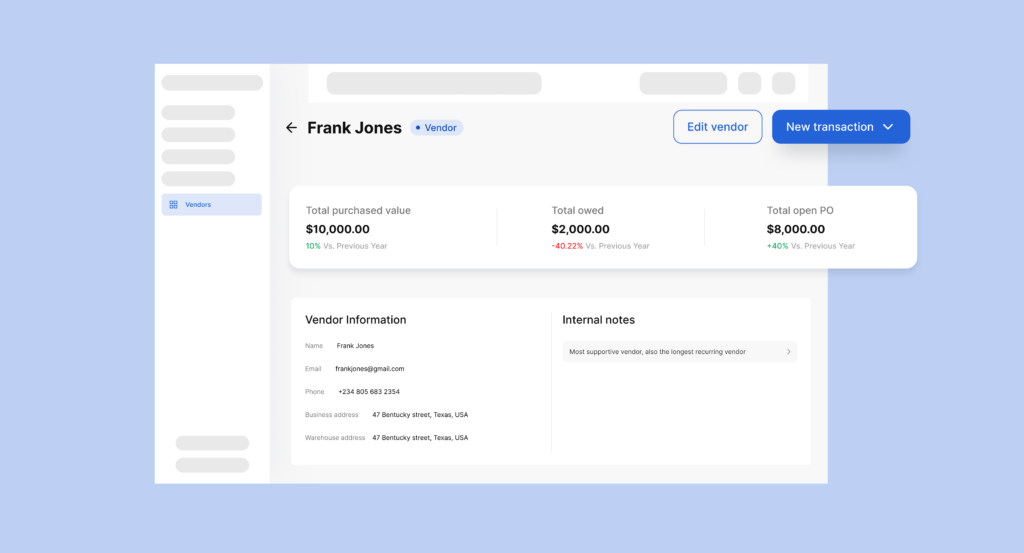 Our Vendors feature allows you to store and manage vendor details in one centralized location. No more digging through spreadsheets or emails to find contact information, terms, or negotiated pricing. Whether it's a supplier of raw materials, finished products, or services, you can create and organize vendor profiles with essential information.
Example: Imagine you run a retail clothing store, sourcing products from various manufacturers. Using the Vendors feature, you can keep track of each supplier's contact details, delivery schedules, and pricing agreements.
2. Purchase Orders: Precision in Procurement
Creating and tracking purchase orders is simplified with our Purchase Orders feature. Generate and customize purchase orders easily, specifying quantities, items, and delivery dates. Automatically sync purchases with inventory and track the cost of goods. With Vencru, you can now monitor orders at a glance and ensure timely fulfillment from your vendors.
3. Billing: Seamlessly Manage Accounts Payable
The Billing feature streamlines the invoicing process, making it effortless to manage vendor payments. You can generate bills based on goods or services received and keep an organized record of outstanding payments. Keep an eye on your cash flow, review your billing history, and ensure that your financial records are accurate and current. 
By managing vendor billing efficiently, you maintain healthy relationships and minimize disruptions to your supply chain.
Why use Vencru's Vendor Management System? 
Our Vendor Management Features come to your rescue in various scenarios:
Inventory Replenishment: Managing inventory levels is essential to avoid stockouts and overstock situations. The Purchase Orders feature enables you to reorder products seamlessly, maintaining optimal inventory levels.
Accounting Accuracy: The Billing feature contributes to accurate financial records by ensuring timely recording and settlement of vendor payments. This level of precision simplifies reconciliation and enhances financial reporting.
Expanding Product Lines: Maintaining clear communication with vendors becomes crucial when expanding your inventory by adding new products. The Vendors feature helps you stay organized as you establish relationships with additional suppliers.
Vencru's Vendor Management Features are integrated into our comprehensive business management software. From tracking inventory and sales to managing expenses and generating financial reports, Vencru empowers retailers and wholesalers to manage their operations with confidence and precision.
Get Started with Vencru's Vendor Management Features!
Manage your vendors, purchase orders, and billing with Vencru today. Sign up or log in to your Vencru account to access the powerful tools you need to run and grow your business.