In today's rapidly evolving business environment, where every minute counts, effective financial management is crucial. Accounting software is an indispensable tool to navigate these challenges effectively. But what precisely is accounting software, and what makes it a vital asset for your business? In this blog post, we'll delve into the world of accounting software, explore its benefits, and highlight why Vencru stands out as the ideal choice for your business.
What is Accounting Software?
Accounting software is used to manage and streamline financial tasks for businesses. It automates many financial processes, such as tracking income and expenses, generating invoices, managing payroll, and providing comprehensive financial reports. In simple terms, it's like having a digital helper for your finances. It makes tough financial processes like manually preparing accounting statements with spreadsheets easier, so you can concentrate on making your business grow.
Benefits of Accounting Software:
Enhanced Decision-Making: Access to real-time financial data and reports empowers you to make informed decisions quickly, enabling business growth and agility
Efficiency and Accuracy: Accounting software automates repetitive tasks, reducing the risk of manual errors. This efficiency ensures that your financial data is accurate and up-to-date, providing a clear picture.
Time Savings: By automating financial processes like data entry, calculations, and reporting, you'll save valuable time that can be redirected toward strategic business activities.
Cost-Effective: Investing in accounting software is often more cost-effective than hiring a full-time accountant or outsourcing financial services.
Compliance: Accounting software helps you stay compliant with tax regulations and other financial requirements, reducing the risk of costly penalties.
Features to Consider When Choosing Accounting Software:
When selecting accounting software for your business, it's essential to consider the following features:
User-Friendly Interface: Look for software with an intuitive interface that's easy to navigate, even for those without a financial background.
Scalability: Choose software that can grow with your business, accommodating your evolving financial needs.
Data Security: Ensure the software provides robust security measures to protect your sensitive financial information.
Integration: Check if the software integrates seamlessly with your business's other tools, such as payment processors and inventory management systems.
Customer Support: Reliable customer support is vital. You'll want assistance when questions or issues arise.
Accounting Software vs. Bookkeeping Software: What is the difference?
While accounting software and bookkeeping software are closely related, they serve different purposes.
Bookkeeping software primarily focuses on recording and organizing financial transactions, whereas accounting software offers features like financial analysis, reporting, and tax management. Vencru, as accounting software, provides a comprehensive solution for managing all aspects of your business finances, including monitoring your business's financial health.
Why Vencru is the Right Accounting Software For Your Business?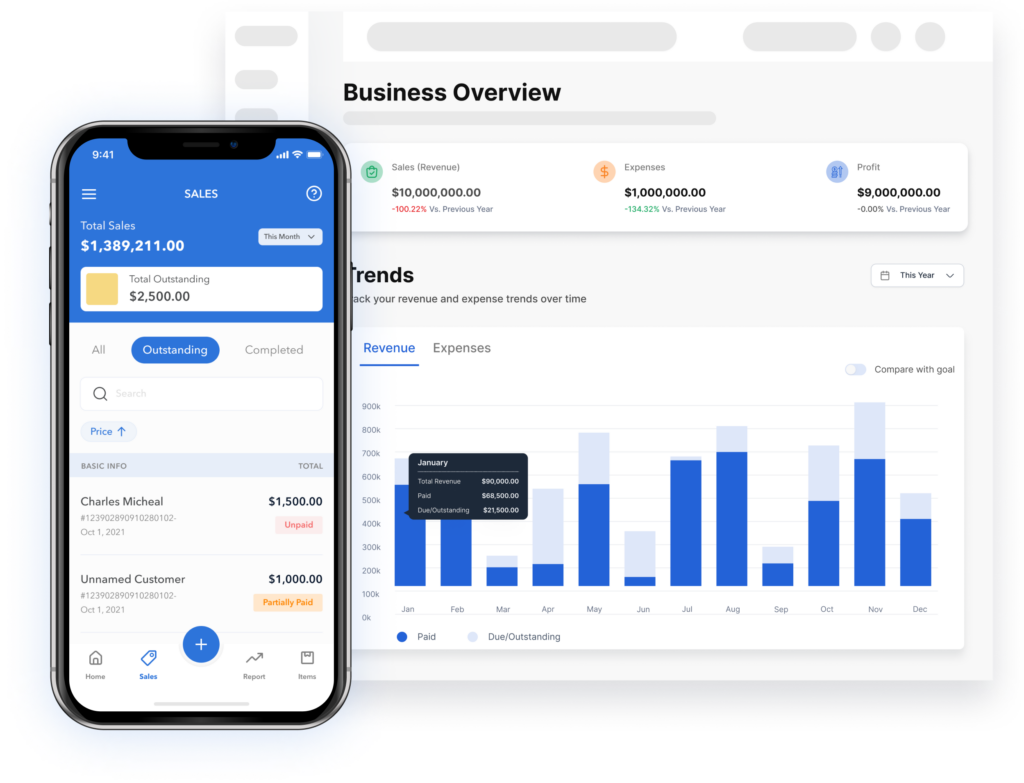 Vencru is a simple invoicing, inventory management, and accounting software designed for businesses of all sizes. At Vencru, we believe that all businesses should enjoy the benefits of accounting software without its complications and high costs. Vencru keeps accounting simple and affordable for businesses. 
Simplicity and Ease of Use: Our user-friendly interface ensures that you don't need to be a financial expert to use Vencru effectively. It's designed for business owners, accountants, sales managers, and more.
Customer Support: We understand that questions can arise at any time. That's why our dedicated customer support team is here to assist you whenever needed.
Security: Your financial data is sensitive, and we take its security seriously. Vencru employs robust security measures (256-bit SSL encryption, annual penetration testing, etc.) to safeguard our users' information and protect against unauthorized access.

Feature-Rich: Vencru offers many features, from invoicing and expense tracking to inventory management and full double-entry accounting reports. It's an all-in-one solution for your financial needs, making it easy for businesses to manage and scale in one place.

Affordable Pricing: Get all the benefits of using accounting software for your business without breaking the bank. Our pricing plans are designed to make top-tier accounting accessible for businesses of all sizes. 
Key Features of Vencru
Vencru Pricing
Free Trial: Signup for a free 30-day trial on Vencru. No credit card is required! See how Vencru makes managing your business very simple!
Demo: If you prefer, schedule a free demo with one of our experts. We'll answer all your questions.
In conclusion, accounting software like Vencru is not just a tool; it's a strategic partner for your business. It streamlines financial processes, saves you time and money, and empowers you to make informed decisions. So why wait? Experience the benefits of Vencru for yourself and take your business to new financial heights. Try Vencru today and witness the transformation in your financial management.