When making decisions, especially for your business, the more data you have at your fingertips, the better the quality of your decisions (which contributes to the success of your business). Gathering insights from your business data doesn't have to take hours of manual calculations and comparisons; with accounting tools like FreshBooks and Xero, uncovering trends from your business data is easier.
Business owners use FreshBooks and Xero to manage their businesses and gather insights for better decision-making. In this blog post, we will closely examine the features, pricing, and pros and cons of FreshBooks and Xero. We will also help you choose the best accounting software for your business.
FreshBooks
FreshBooks is a cloud-based accounting software for freelancers and small businesses. FreshBooks offers features for invoicing clients, inventory management, business reports, etc. FreshBooks integrates with third-party software to generate advanced accounting reports.
Pros
It integrates with various third-party apps and services
FreshBooks is known for its intuitive interface. It doesn't require extensive accounting knowledge
Users can easily create and send professional-looking invoices,
Cons
Lacks comprehensive reports for businesses. Needs integration for advanced reports
While FreshBooks is excellent for invoicing and expense tracking, it lacks some advanced accounting features that larger businesses may require.
FreshBooks can be relatively expensive compared to some other accounting software options.
Users may find the customization options in FreshBooks to be limited compared to more robust accounting software.
FreshBooks Pricing
(Source FreshBooks.com)
There is no free plan however, there's a 30-day free trial period to test out FreshBooks, thereafter, a plan has to be purchased.
Pricing ranges from $17 to $55 billed monthly. During sales, you get 50% off for the first 3 months after which normal rates apply for each plan.
There are add-ons available for each plan at a price:
Team members at $11 per user per month
Advanced payment at $20 per month
What customers are saying about FreshBooks
I wish it wasn't so expensive. I like the service, but I feel that the annual cost is pretty steep. (Review from G2)
The learning curve. As a busy business owner, it does take some time to practice and perfect. (Review from G2)
One of the areas where I feel this platform could use some improvement is its reporting and analytics functionality. While the platform provides basic data on projects, payments, and clients, I would like access to more advanced and customizable metrics that allow me to more closely track how my business is performing. (Review from Capterra)
One of my most significant pain points with FreshBooks is their Reports sections. The reports are converted into downloadable CVS documents. The problem is that they are incredibly messy, difficult to understand and make trying to keep track of earnings a headache. (Review from G2)
Xero
Xero is a cloud-based accounting software for businesses. Xero offers features like invoicing, expense tracking, inventory management, double-entry accounting, bank reconciliation, and others. Xero is available to businesses worldwide.
Pros
Xero automatically imports and categorizes bank transactions, simplifying bank reconciliation
Can accommodate the growth of your business
Xero integrates with numerous third-party applications, including payment gateways.
Cons
Pricing can be relatively high for small businesses, especially when compared to some other accounting software options.
Xero extensive features may require a learning curve for some users, particularly those new to accounting software.
The payroll functionality is not included in all pricing plans and may incur an additional cost.
Some users have reported challenges with customer support, including response times and the availability of live support.
Xero Pricing

(Source Xero.com)
Xero does not offer a free plan; but there's a 30-day free trial period to test out Xero. Pricing ranges from $13 to $70 billed monthly. During sales, you get 75% off for the first three months, after which normal rates apply for each plan.
What customers are saying about Xero
 As with many accounting software, Xero is complex and it's not always obvious how to do something. The design could be more intuitive and I do find myself at times clicking around trying to figure out where something would be. (Review from Capterra) 
Xero can be quite expensive as compared to other accounting software and the customer support is not always as helpful as one would hope. (Review from Capterra)
A tad too complex for the average user. Reports in particular are not easy to figure out which is right for any given set of data (Review from G2)
It's not as easy for non-accountants to use. I have worked with other products that are more user-friendly in categorizing transactions and producing reports. (Review from G2)
Related: Xero vs Quickbooks: 2023 Comparison
FreshBooks vs. Xero: Feature Comparison
| | | |
| --- | --- | --- |
| Feature | FreshBooks | Xero |
| Free Plan | No | No |
| Invoicing | Yes | Yes |
| Inventory tracking | Yes | Yes |
| Accounting reports | Yes | Yes |
| Estimates and Quotes | Yes | Yes |
| Vendor Billing | Yes | Yes |
| Multiple user access | Yes | Yes |
| Audit Trail | Yes | Yes |
| Budgeting tools | Yes | Yes |
Vencru: The Invoicing and Accounting Software for All Businesses
Are you searching for a business management tool beyond accounting, offering you an all-in-one solution for your business needs? Then you should check out Vencru. From invoicing, expense tracking to inventory management and customer relationship management, Vencru has it. Say goodbye to the hassle of juggling multiple apps and embrace the simplicity of an all-inclusive platform.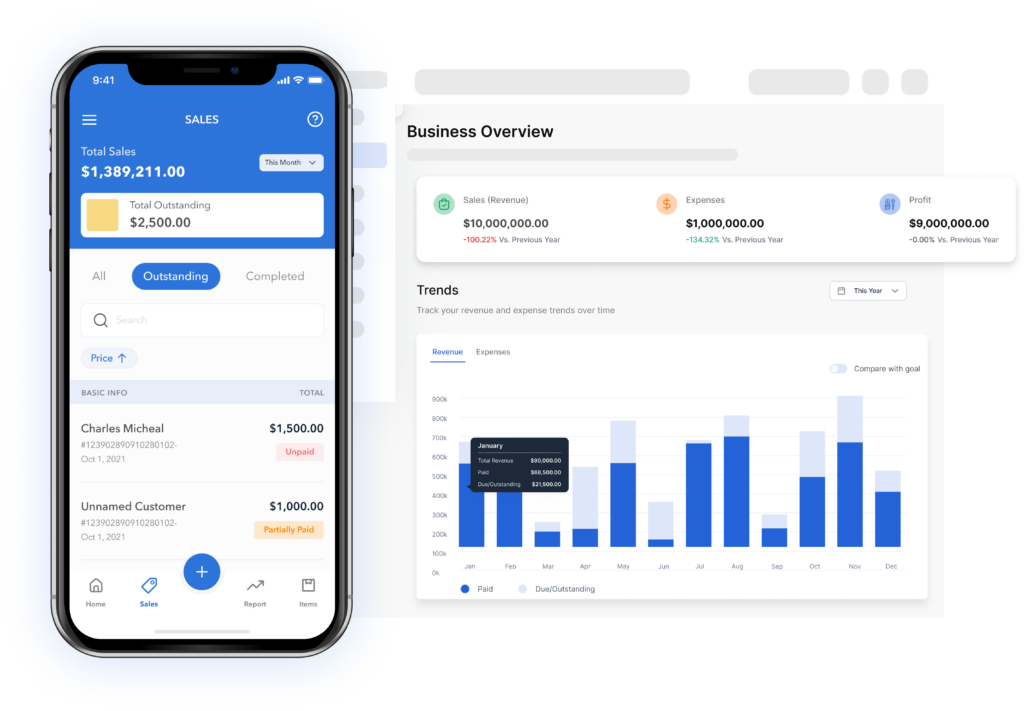 Vencru offers a user-friendly interface that doesn't compromise on functionality. Whether you're a seasoned entrepreneur or just starting your business journey, Vencru's intuitive features make it easy to use while providing powerful tools to manage your business effectively. Vencru is built to grow with your business. Whether you're a solopreneur or scaling up, our platform adapts to your changing needs.
Experience the ease Vencru offers with plans starting at $6 to $50 per month and a free plan. Invoice clients, send quotes or estimates, receive online payments, get double-entry accounting reports, manage your inventory, record expenses, manage employees, and many more on Vencru!
Don't settle for just any accounting software; see how Vencru outshines Xero and FreshBooks below:
| | | | |
| --- | --- | --- | --- |
| Feature | Vencru | FreshBooks | Xero |
| Free Plan | Yes | No | No |
| Coverage | Worldwide with over 160 supported currencies | Worldwide | Worldwide |
| Pricing (billed monthly) | Starts at $6 | Starts at $17 | Starts at $13 |
| Intuitive (Easy to use) | Yes | Relatively | No |
| Invoicing | Yes | Yes | Yes |
| Inventory management (Inventory tracking) | Yes | No | Yes |
| Estimates and Quotes | Yes | Yes | Yes |
| Order Management (shipping status) | Yes | No | No |
| Accept Online Payment | Yes | Yes | Yes |
| Multicurrency (For sales and expenses) | Yes | Yes | Yes |
| Tax reporting | Yes | Yes | Yes |
| Purchase Order and Vendor Bills | Yes | Yes | Yes |
| Business reports | Yes | Yes | Yes |
| Double-Entry Accounting reports | Yes | No. Integration needed | Yes |
| Employee management (sales by employee report) | Yes | No | No |
| Budgeting tools | Yes | Yes | Yes |
| Product barcode scanning for sales and inventory | Yes | No | No |
| Expiry date tracking for products | Yes | No | No |
| Audit Trail | Yes | No | Yes |
| Mobile App | Yes | Yes | Yes |
Vencru is ideal for small businesses, product-based businesses, and service-based businesses.
Key Features of Vencru
Invoicing and Sales Management: Sending invoices is easy with Vencru; create online invoices in less than a minute. Automatically track debtors, manage business sales, improve cash flow, and get your financial reports.
Estimates and Quotes: Create quotes and proposals in various currencies and convert estimates into invoices seamlessly.
Inventory Management: Keep track of what you have in store, update when to restock, and deduct when you create invoices or receipts
Expense Management: Track and manage all your business expenses and receipts in one place. Say goodbye to manual expense reporting and streamline your finances.
Vendor Billing and Purchase Orders: Make and send vendor bills, track orders and deliveries, and sync inventory items easily.
Business Reporting: Convert all data into insights needed to grow your business with simplified business reports. Review dashboards and reports on your sales, expenses, inventory, and clients.
Accept Online Payments: Accept payments directly from invoices with credit cards, debit cards, and more, and have every penny accounted for with our bookkeeping features.
Double-Entry Accounting Software Program: Track assets, liabilities, equity, revenue, and expenses. Get financial statements (cash flow, income statement, statement of financial position).
Client Management: Manage your clients, track their orders, and keep on top of your financials
Budget Planning Tracker: Plan your business budget, set targets for revenue and expenses, forecast finances, and track progress easily. 
Employment management: Track sales by employee, view performance metrics, and maintain an audit trail. 
Vencru Pricing
Free Trial: Sign up for a free 30-day trial on Vencru. No credit card is required! See how Vencru makes managing your business very simple!
Demo: If you prefer, schedule a free demo with one of our experts. We'll answer all your questions.
Want To Migrate to Vencru From Xero or FreshBooks? Here's How
Migrating from your present business management software to Vencru is very easy. All you need to do is follow these steps.
Book a free demo with our customer support team
Decide on the best plan that works for you
We will work with you and provide training on how to migrate successfully.
Related: Top 6 Accounting Software For Small Businesses in 2022