As business owners, we have to balance running our business with our personal lives, and running a business can be a lot to handle. Millions of business owners adopt accounting software to track finances, manage cash flow, and prepare taxes, among other things. This blog post examines and compares two options, Zoho Books and Quickbooks, and helps you get answers to the questions, "Are they the right fit for my business?" and "Is there a better option that checks all the right boxes for my business?"
Zoho Books
Zoho Books is an invoicing and accounting software for small businesses. Zoho Books has both free and paid plans ranging from $20 to $275 billed monthly. Zoho Books integrates with other apps in Zoho Suite to manage businesses.
Pros
Zoho Books offers competitive pricing making it an attractive option for small and growing businesses.
Zoho Books can grow with your business. It offers a variety of pricing plans to fit different needs
Offers a wide range of accounting features
Cons
Zoho Books offers limited customization options. This can be a problem for businesses with complex accounting needs.
Zoho Books does not offer payroll processing. This is a feature that some businesses may need.
Limited customer support: Zoho Books offers 24/7 support, but the quality of support can vary.
Zoho Books only integrates with other Zoho apps and platforms
Zoho Books Pricing
(Source ZohoBooks.com)
Zoho Books has a free plan and prices of paid plans range from $20 to $275 billed monthly. There are add-on available to only paid subscribers at a price.
Additional users at $2.5 per user/month (Billed annually)
Snail mail at $2/per credit
Advanced Scan at $8 (50 Scans/mo) (Billed annually)
What customers are saying about Zoho Books
in Zoho Books can't customize more advanced financial reports Zoho Books is more costly compared to other accounting software especially when advanced features are needed (Review from Capterra)
Despite the extensive feature set that Zoho Books provides, some users can find the user interface to be too complex, and it might take some time to become accustomed to all the possibilities. (Review from Capterra)
Like many Zoho products, the interface and feature set is a little wonky and unintuitive at times (Review from G2)
There is definitely a learning curve with this product that I have not experienced with other Zoho products. (Review from Capterra)
Quickbooks
Quickbooks is a cloud-based accounting software for businesses. Quickbooks features like invoicing, time tracking, inventory management, double-entry accounting, bank reconciliation and others. Quickbooks tend to be costly for small businesses requiring basic features.
Pros
It offers a wide variety of features
It offers extensive reporting
Cons
It is not a cost-friendly option for small businesses.
It is not very intuitive and has a learning curve
Quickbooks Pricing

(Source Quickbook.com)
There is no free plan. However, there's a 30-day free trial period to test out Quickbooks. Pricing ranges from $30 to $200 per month. During sales, you get 50% off for the first 3 months, after which normal rates apply for each plan.
What customers are saying about Quickbooks
There's a huge learning curve for this software. (Review from Capterra)
The price can be a bit much for some companies. The customer service is horrible, and answers are confusing once a person does answer to help. (Review from Capterra)
My least favorite thing about this software is that the longer it is up the slower it gets for me. (Review from Capterra)
The user interface can be quite confusing and complicated, especially for those who are just starting to use accounting software for the first time. (Review from G2)
Zoho Books vs. Quickbooks: Feature comparison
| | | |
| --- | --- | --- |
| Feature | Zoho Books | Quickbooks |
| Free Plan | Yes | No |
| Invoicing | Yes | Yes |
| Inventory tracking | Yes | Yes |
| Accounting reports | Yes | Yes |
| Estimates and Quotes | Yes | Yes |
| Vendor Billing | Yes | Yes |
| Multiple user access | Yes | Yes |
| Audit Trail | Yes | Yes |
| Budgeting tools | Yes | Yes |
Vencru: The Invoicing and Accounting Software for All Businesses
When it comes to managing your business's finances, having the right accounting software can make all the difference. Vencru goes beyond accounting and offers a comprehensive suite of tools to manage your entire business. From inventory management to customer relationship management (CRM), it's an all-in-one solution that streamlines your operations.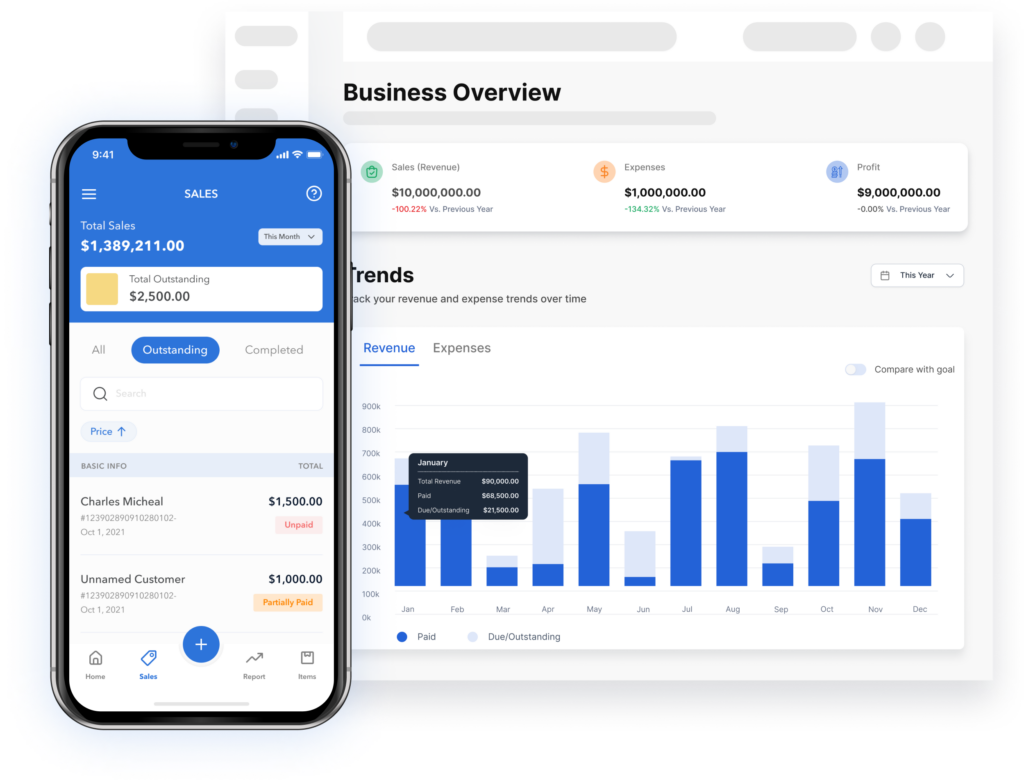 Vencru is created with small business owners in mind, so we kept it simple, straight to the point, and budget-friendly because we know how valuable your time is and we want to make sure you don't miss out on the benefits of using an accounting software for your business. Check out our pricing plans, ranging from $6 to $50 that covers all you need and more. Work smarter with Vencru!
| | | | |
| --- | --- | --- | --- |
| Feature | Vencru | Zoho Books | Quickbooks |
| Free Plan | Yes | Yes | No |
| Coverage | Worldwide with over 160 supported currencies | Worldwide | Worldwide |
| Pricing (billed monthly) | Starts at $6 | Starts at $20 | Starts at $30 |
| Invoicing | Yes | Yes | Yes |
| Inventory management | Yes | Yes | Yes |
| Estimates and Quotes | Yes | Yes | Yes |
| Order Management (shipping status) | Yes | No | No |
| Accept Online Payment | Yes | Yes | Yes |
| Multicurrency (For sales and expenses) | Yes | Yes | Yes |
| Tax reporting | Yes | Yes | Yes |
| Purchase Orders and Vendor Bills  | Yes | Yes | Yes |
| Business reports | Yes | Yes | Yes |
| Double-Entry Accounting reports | Yes | Yes | Yes |
| Employee management (sales by employee report) | Yes | No | No |
| Budgeting tools | Yes | Yes | Yes |
| Product barcode scanning for sales and inventory | Yes | No | No |
Key features of Vencru
Vencru Pricing
Free Trial: Signup for a free 30-day trial on Vencru. No credit card is required! See how Vencru makes managing your business very simple!
Demo: If you prefer, you can schedule a free demo with one of our experts. We'll answer all your questions.
How to migrate to Vencru from Quickbooks or Zoho Books
Want to migrate from your present business management software to Vencru? Here's how easy it is:
Book a free demo with our customer support team
Decide on the best plan that works for you
We will work with you and provide training on how to migrate successfully.