Accounting and POS software is a powerful tool when combined. However, it provides a record of every sale and keeps you up to date on inventory records. And, it also helps you save valuable time, increases traffic to your retail store, enhances the customer experience, and more.
Running business reports with accounting and POS software helps you make better decisions about ordering and sales, most importantly.
Let's begin with a step-by-step explanation for proper understanding…
What is Accounting?
Accounting is acknowledged by many as the language of business. "Accounting as defined by the accounting coach is the recording of financial transactions. And, storing, sorting, retrieving, summarizing, and presenting the results in various reports and analyses."
Most importantly, the primary function of the accountant is to make records of all transactions carried out by a firm. This brings us to the meaning of bookkeeping.
What is bookkeeping?
On the other hand, bookkeeping is more limited in scope than accounting and concerns only the recording part. However, it is the making of a record of all transactions that qualify as one.
Are Bookkeepers Accountants?
To clarify, bookkeepers are not accountants, but, accountants can be bookkeepers. Because accountants require a high-level skill set to analyze financial data more efficiently.
What is Accounting Software?
Accounting software is an automated computer program developed to help you orderly record and report multiple financial transactions.
Therefore, automated accounting software saves time and the cost of hiring extra accountants and bookkeepers.
And, it also assists you in keeping track of accounts payable and accounts receivable. By giving you a clear understanding of your profit and loss levels and preparing you for the tax season.
All of which are dependent on your business's scope, kind, and requirements.
The best online accounting software shows you where to cut expenses and boost business productivity. And, it supports you in decision-making and the growth of your business.
What is POS/POP?
POS (point of sale)/ POP (point of purchase) is the location and time when a customer makes the payment for goods and services ordered.
However, at the point of payment, the retailer may issue a receipt for the transaction. And it is printed, handwritten, or sent electronically.
What is POS Software?
POS software is a computerized system that monitors changes in unit prices. Meanwhile, it calculates when you need to restock, and analyzes your inventory levels on an item-by-item basis.
In addition, it is a platform used for managing the entire business operation.
Classification of POS Software
There are various types of POS software customized to meet your individual business needs. For example, the POS interface can be geared toward grocery stores, restaurants, hotels, bookshops, hospitals, pharmacies, etc.
POS software is integrated with accounting management like Vencru or has a barcode-generation feature handy for omnichannel retailers.
Most importantly, POS software is classified into two:
Firstly, cloud-compatible POS.
Secondly, traditional POS.
Cloud-compatible POS:
With an internet connection, retailers use this software to gain access to real-time data in any part of the world.
Traditional POS:
This system is not encouraged in our time and age. However, it is an old system that operates on a closed network. Above all, the software is installed on specific devices and runs solely on them.
Can Accounting be Integrated Into POS Software?
Certainly, once Accounting and POS software is integrated, a powerful tool is created. And, it's designed to operate across several devices, like smart mobile phones, iPad, PC, and other devices.
On the other hand, once accounting and POS software become integrated, there will be less room for errors and discrepancies.
Examples of POS Accounting Software
There is a lot of accounting and POS software, but it boils down to what you are using for your business. Especially when it's fully equipped with features for managing your entire business operation.
For example, here are some accounting and POS software:
How can Vencru help you achieve retail success?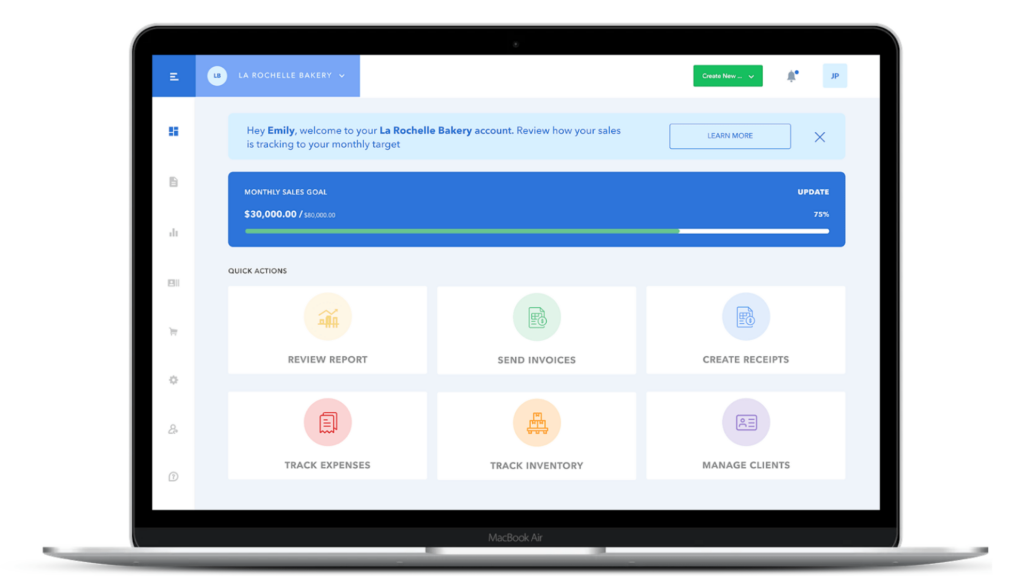 Vencru is the easiest invoicing, accounting, and POS software – with unique features and benefits. You are 100% sure to perform inventory management, bookkeeping, retailing services, manage your clients, and manage your employee sales. All in one place.
Features of Vencru as an Integrated POS Accounting Software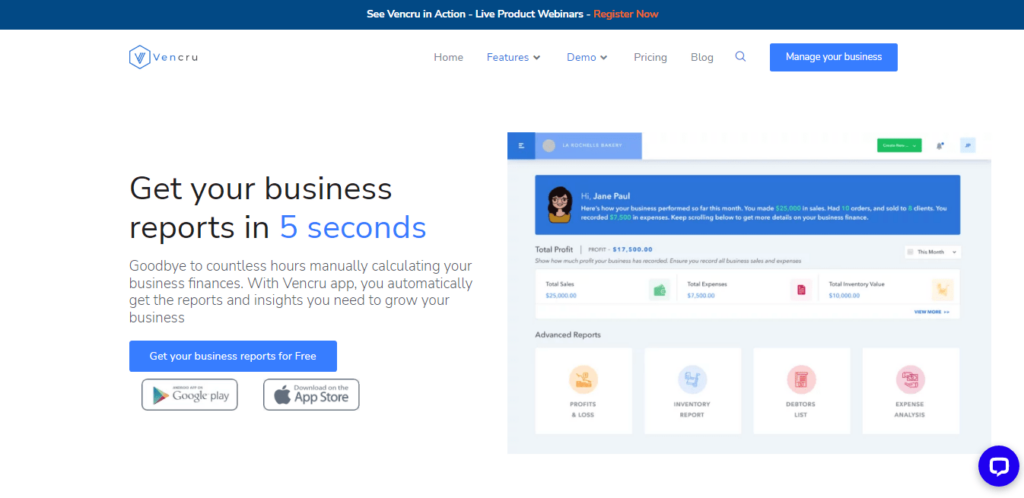 Vencru sends you automated accounting reports- sales and business reports via email as registered when signing up. Therefore, you will also receive updates if you are running at a loss or gaining some profit. Moreover, you are invited to check out our Free Accounting templates.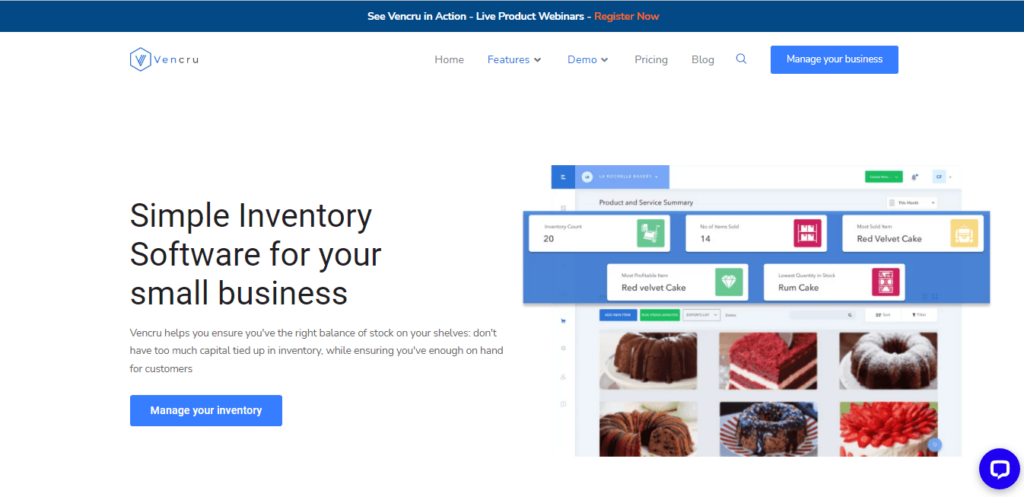 To clarify, with this feature integrated into our system, you are sure never to run out of stock or suffer a loss on excess inventory.
It comes with a bonus called: Barcode scanning, used via your Vencru mobile app on smart devices.
Firstly, you can instantly scan your goods, and they get uploaded to your inventory.
Secondly, using the barcode scanner, you would be able to replace old stocks and keep track of those due for reordering.
Thirdly, your team members can use the barcode scanner option on their smart devices to keep inventory organized and ordered.
Therefore, with free inventory templates, you will receive alerts on low stock quantities, track the highest sales by product, know your most profitable products, review your period sales, etc.
In the same vein, using this feature, Vencru pulls out details on all your expenses and how best to cut them down. And also, avoid overspending for the benefit and growth of your business.
However, with our free expenses report template, you are sure to track your business costs and expenses. These business reports prepare profit and loss statements, informing business owners of how their spending compares with their income.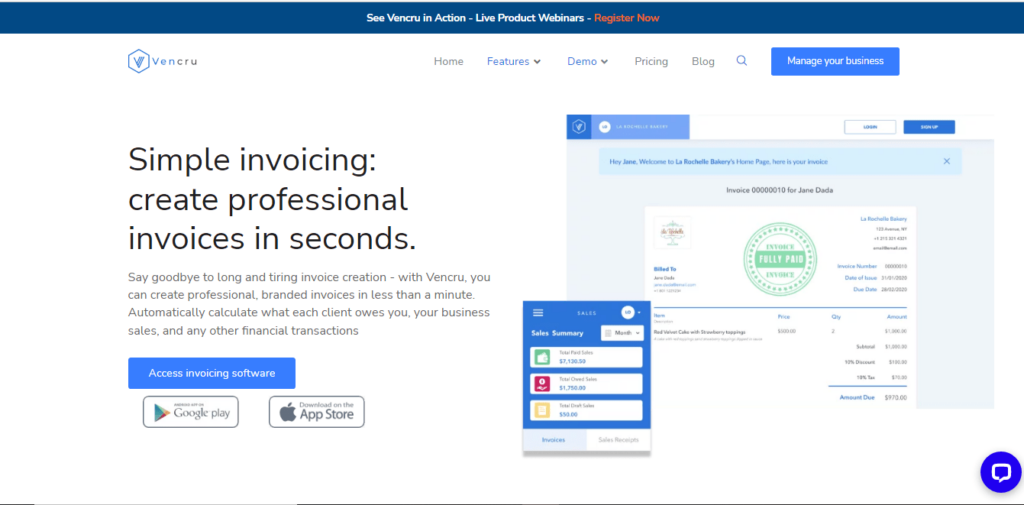 With an option to generate invoices and use free invoicing templates, you can send and share an invoice within a minute. Certainly, it also means that you get paid faster!
Be you in the service business. For example,
Or in the product business. For instance,
Vencru has you covered with free customizable invoicing templates and receipts generator.
Customers are essential for the growth of your business. And by using Vencru, your customer's needs are up-front, making them feel important.
The benefits are not limited to:
Efficiently managing your inventory
Able to track your debtors
Reduces effort in manual operations
Rise in efficiency rate and minimized errors in data collection
Well-organized transaction processing
Track your profits and losses
Monitor your expenses with ease
Get your bookkeeping reports automatically
Manage your customers
Easily track your sales levels – send invoices and receipts
Monitor the activities of your staff.
Final Takeaway
Sign up with us now! To enjoy the best from the POS accounting software customized solely to meet your business needs. Make sure you stay tuned to our blog and get unique resources to help you navigate the market. Good luck!