Many things can affect a retail store's customer service from being fully optimized. For instance, it could be your choice of products, prices, employees, store environment, etc. But, know that the type of assistance or services you offer your customers is certainly, within your control. This is one of the ideal purposes for you to never relent on sourcing ways to surprise your customers. By putting their needs first, for instance.
The content title might be unclear – what exactly do I mean by "leveling up your retail store's customer service"? For an easy understanding, I have put together some daily life examples.
What Is Good Customer Service?
Good customer service means a lot. In retail stores, there are different angles. For example, it could be,
Pointing out the right shelf to a customer and assisting them in completing their purchase
About an increase in customer retention
A welcoming smile or a piece of advice
The manner of approach to problem resolution
However, there is no limit to the number of accomplishments expected in the experience of good customer service. On the other hand, poor customer experience effectively drives customers away, causes loss of profit, poor sales, etc.
Examples Of Good Customer Service
We will be discussing some good habits that can improve your customer's experience as they visit your retail store.
Using a perfect customer relationship management (CRM) strategy software, you can take note of your customer's data or information. For example, their contact details, email addresses, birthdays, regular choice of products, taste, and much more.
However, after acquiring this information, try reaching out to your customers. Telling them how grateful you are for their purchases via emails, gift cards, or calls, for instance. A short note amongst your customer's orders, addressing them by their first name. For example, "WOW, Hi Augustine! So lovely to see your name come up again! We are thankful for your purchase! You always have a unique taste!"
Most importantly, to maintain undoubtedly integrity, you need to make promises you can keep. It is important because, If you do not deliver on your promises, be prepared for the outcome. However, this outcome will reduce your retail store's reputation by creating a negative impact on your business.
In addition, assist your customers in replacing faulty products purchased from your retail store or e-commerce business. This will not only get them to frequent your store but spread positive news.
Providing additional forms of discounts. For instance, a 1-year guarantee, buy 2-get-1-free. This gives a clear image of your business in customers' eyes. Therefore, increasing the chances of them becoming repeat shoppers.
Tips To Level Up Your Retail Store's Customer Service
Here is how you can put your retail store's customer service on an entirely different level:
Train or retrain your employees
Brand authority
Analyze data available for better decision making
Educate and entertain customers with digital signage
Effective communication
Train or retrain your employees
The question here is, how often do you enter a store, feeling lost? You reach out to an employee, thinking could solve your problem, meanwhile, you get a reply, "it's not my job.
Most importantly, retailers need to be positive that all their employees understand the importance of good customer service. A customer service orientation would also help increase your employee customer service relationship.
However, they need to recognize that it's their position to direct customers in the right direction for assistance. In short, until you find yourself in your customer's shoes, you will never understand the benefit of this skill.
Brand Authority
Building a reputable brand is more important than anything else. Hence, reaching out to customers who feel dissatisfied and assuring them of a follow-up is one way to sustain your business reputation.
As a retailer with an online presence – an e-commerce business, you can invest in a customer reputation management system to analyze where your business is failing and gain first-hand knowledge and data on this update.
These solutions fix your customer concerns and stop the chances of affecting your business reputation.
Analyze Data Available For Better Decision Making
Data analysis is essential for small business owners with the zeal to grow from point A to point B.
For example, as an e-commerce business owner, you have regular customers who place orders via your e-commerce website. Using such details, you can send them emails with advertisements on different or similar products and offer promotions or deals on the services/products they mostly order.
Educate And Entertain Customers With Digital Signage
In brick-and-mortar stores, the use of old marketing tactics such as banners, flyers, brochures, or posters for conveying upcoming promotions or deals is employed. In contrast, in an e-commerce business, digital signage is engaged for advertisement, showcasing of products, business schedules, new product updates, or simply to entertain customers with pictures, news updates, or music videos…all depending on the retailer's needs.
This alone is faster, editable, entertaining, educative, has a more extensive network coverage, data retention, attractive and attention-grabbing.
Effective Communication Across Multiple Channels
As a retailer, to level up your retail store's customer service experience, you need to constantly communicate with your customers. Such information could be informing them of future changes in advance through emails, social media handles, websites, or directly in your physical retail store.
Combining your physical shop and e-commerce business (online presence) gives your customers an omnichannel experience that makes you stand out amongst your competitors.
Keeping this information consistent across multiple channels of communication is very effective.
How Can Vencru Help In Leveling Up Your Retail Store's Customer Experience?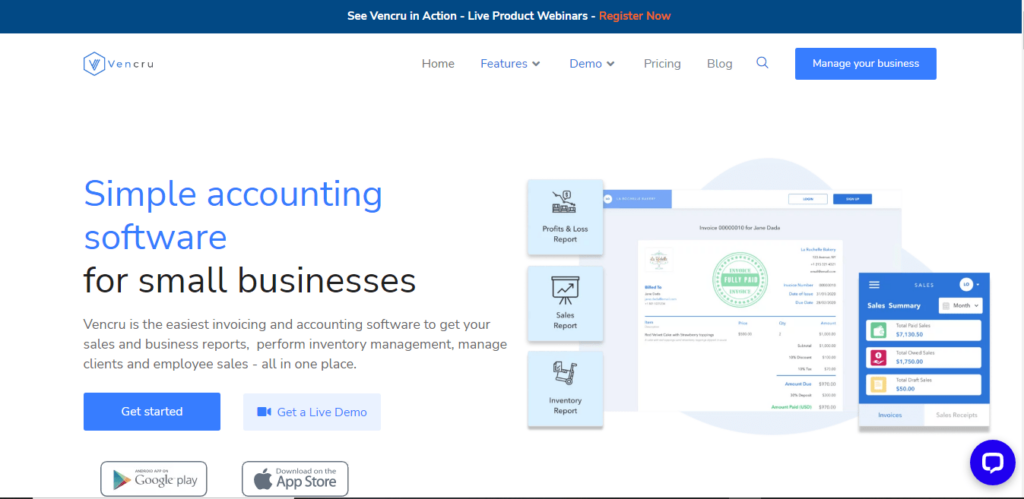 Vencru is the leading software solution for all your accounting and retail inventory management used by retail stores/e-commerce businesses.
It is free accounting software for small businesses and one of the best with a cheap/affordable premium offer.
Vencru has you covered with online retail management and inventory management features, as discussed above.
It is trusted by both large and small businesses everywhere in the world.
We automatically track your stock levels
Easily keep track of your sales level
Monitor your business (profit and losses)
Blog Tips on how best to level up your business, clients, and employees
Customer relationship management
Automated bookkeeping reports and so much more
Vencru is very simple to use and is accessible from anywhere in the world – and our online payment option is indisputable.
B2C, B2B, self-employed, freelancers, and other businesses…are employed to use Vencru for their day-to-day business activity.
Final Takeaway
In our fast-changing world, effective retail management is needed to level up your retail stores' customer service experience to meet the expectation and demands of your consumers. Your physical shop and e-commerce business combined gives you a perfect boost.
Here are some tips to ensure it's a dream come true:
Train/retrain your employees
Brand authority
Analyze data available for better decision making
Educate and Entertain customers with digital signage
Effective communication
Sign up with us today and increase your retail store customer service experience.
Make sure you stay tuned to our blog to get resources to help you navigate the market as an experienced retailer. Good luck!